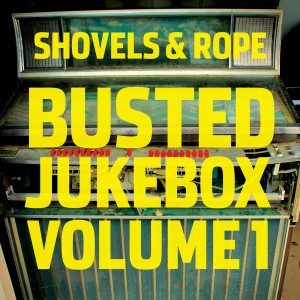 Husband and wife duo Cary Ann Hearst and Michael Trent have both been making solo music under their own names for many years now, but it was only 2012 when they truly committed to recording and releasing as Shovels & Rope. This is their third album in as many years, so it maybe comes as a surprise that it's a covers album. That said, this is a year where the cover album has come to the fore, with Bob Dylan's Shadows In The Night being critically acclaimed and earning him his first number one album in 51 years, not to mention Ryan Adam's much-discussed take on Taylor Swift's 1989, maybe the timing seemed right to them.
Another interesting feature of this album is that it features a different guest on every track but one. It includes an impressive lineup of acts and friends of theirs like Shakey Graves, The Milk Carton Kids, Butch Walker, and even the Preservation Hall Jazz Band. The collaborations wonderfully emphasise the talent and diversity that Shovels & Rope are lucky enough to have, straight from the opening track, they let you know how it's going to be. Neil Young's 'Unknown Legend' lends itself to their sound, which was undoubtedly influenced by him along the way.
Their rendition of Guns n' Roses 'Patience' with The Milk Carton Kids has got it all – the journey of the song is every bit as emotive as the original version, but in a gracefully different way, the harmonic blend of the four voices is surprisingly pleasing. You could easily worry that with the two duos used to working so closely together, that they might end up in a "Too many cooks…" situation, but it's just not the case. My personal favourite is their rendition of Elvis Costello's '(What's So Funny 'Bout) Peace, Love, And Understanding?', the fervour behind the vocals are breathtaking, and make it an easy standout for me.
'Perfect Day' is a hard song to do justice to, but they certainly come close as their take on the Lou Reed classic retains the life, romance and quirky passion of the original.
The record closes with 'Leaving Louisiana In The Broad Delight', the Oak Ridge Boys track made famous by country legend Emmylou Harris. Here there are no collaborators, and it is a satisfying end to hear just the two of them, with a drum kit and some howling harmonica. Emmylou herself would have been proud of this one.
Broken Jukebox may not be breaking any new ground particularly, none of the covers are too drastically reimagined, and it's the same Shovels & Rope sound we're used to. But hey, as a fan of a given artist, I love nothing more than hearing them cover songs I like, even if it's just as simple as the fact that it's their voice singing the song in the exact same arrangement and instrumentation. Shovels & Rope fans will enjoy this record.
Words: Ollie Lucas