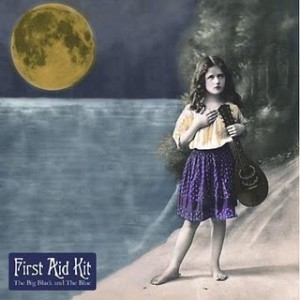 My love of the Swedish duo Johanna and Klara Söderberg (sisters who perform under the alias First Aid Kit) began when I was first introduced to them by my own siblings some time last year. However, their debut LP, The Big Black And The Blue – which follows 2009's Drunken Trees EP – has taken my infatuation to another level.
Despite their tender age, The Big Black And The Blue is a startlingly mature record. First Aid Kit have made an album way beyond their years; their sound evoking an image of a couple of worn out, world-weary housewives sat on their Kentucky porch strumming away and singing songs of lost lovers and meetings with the dead. This is no bad thing, and despite the subject matter sometimes appearing a little clichéd, their sumptuous vocals and catchy melodies give the lyrics that extra kick. I defy anyone not to fall to in love with their sound.
It's hard to single out any particular favourites as this is a record which really should be consumed in one, from the stripped bare and beautiful beginnings of 'In The Morning' to the majestically melancholic final number, 'I'm Building Myself A Boat'. At 12 songs deep there isn't one bad track in sight, and I've no doubt that rather than skipping through it impatiently in an attempt to draw up a conclusion of which are the stand-outs, The Big Black And The Blue is an album to get lost in, and then be left wanting more when it all comes to an end. My advice for when this inevitable tragedy occurs? Cook up a brew and enjoy listening to it all over again.
Words: Callum Mitchel
Watch the video for the second single from The Big The Black and the Blue, 'I Met Up With The King', which will be released on 8th March 2010.