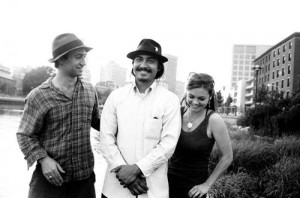 The fine folk over at The Waiting Room alerted us to the fact that The Low Anthem have started a weekly radio show on Texas-based internet radio station Woxy.
Their show, Trala-lala Radio Hour was first Broadcast last Sunday (31st January) with the theme Ramblers and Broken Homes. Ben, Jeff and Jocie introduced songs from Bob Dylan, Tom Waits and Gram Parsons as well as a live session from Joe Fletcher.
Jeff and Ben aren't new to this radio lark, having presented a jazz show on WBRU, a station in Rhode Island before the band even existed.
You can listen to the 2nd broadcast next Sunday at 10am ET, which we *think* is 4am on Saturday here. (This can be checked using facts instead of vague memories and conjecture, so please do before staying up to listen to it live or anything.) It'll also be streamable on the website for the week after, which is FFS's listening method of choice.
Check out the rather awesome tracklisting for Ramblers and Broken Homes below.
Professor Longhair, Tipitina
John Prine, The Hobo Song
Jackson C. Frank, Blues Run the Game*
Bob Dylan, I Threw It All Away
Captain Beefheart, Yellow Brick Road
Gram Parsons, Return of The Grievous Angel
Leonard Cohen, Hey, That's No Way to Say Goodbye
Ramblin' Jack Elliot, Wabash Cannonball
Nathan Moore, Travelin' On
Led Zeppelin, Going to California
Mississippi John Hurt, Make Me a Pallet On Your Floor
Woody Guthrie, More Pretty Girls Than One
Lucinda Williams, Jackson
Joe Fletcher, My Idea (live)
Joe Fletcher, Sentimental Jury (live)
Tom Waits, Anywhere I Lay My Head
*There's a bloody wonderful cover of this one on Headless Heroes (them featuring the lovely Alela Diane)'s 2008 album The Silence of Love. You can hear it on Spotify.