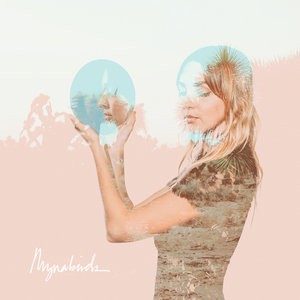 I listen to Lovers Know with some anticipation. The Mynabirds' last album, Generals, was one of my favourites in recent years, from the punch of the title track to the hopeful 'Body of Work'. It is fiercely original while also being tuneful, melodic, danceable; so I'm surprised to read, in the PR material for Lovers Know, that this is The Mynabirds' "most accessible" album to date. Who decided that? I automatically imagine an executive who looks and sounds like an old-time villain in a gangster film, smoking a giant cigar: "Laura, I like your protest songs – I do – but they don't sell." I hope that Lovers Know represents a direction The Mynabirds really want to go in, rather than a steer towards marketability.
Laura Burhenn's voice is as strong as ever, but this record, wrapped in ambient synths, admittedly sounds like a lot of other bands. The big-and-loud emphasis slightly echoes Florence and the Machine, while Marina and the Diamonds, Austra, Chvrches, Little Boots and St Vincent all offer some combination of pop, electro and soul. They are already making this work for them, often brilliantly (especially Marina, and St Vincent), so Lovers Know enters a crowded field, whereas in Generals, The Mynabirds sounded distinct.
Still, these are all decent songs. I can imagine them being electrifying live; they just feel initially as if they have been recorded under a heavy curtain. 'All My Heart' begins powerfully, reassuring and gutsy, but becomes soupy as it continues, through some combination of a sedate beat and not having a strong enough hook.
As the album progresses, there is growth. 'Believer' has rattling percussion, and 'Wildfire' is more tightly coiled around Burhenn's voice, allowing her lyrics to come through.
'Semantics' is gentle and poppy, 'Orion' is more dramatic, a love song to the star god – "Orion, my strong man, I dream of you, as real as I am" – while 'Omaha' allows more vulnerability into the song, and into Burhenn's vocals; a spectral echo.
'One Foot' opens with light, glittering guitar and a fast pace, bearing repeated listens. This album was inspired by travel, and would fit well into a long journey. 'Hanged Man' feels luxurious, rather than weighed down by its own catharsis, as if the record is unfurling into a dark flower.
Lovers Know isn't a total departure: effectively, it returns to the gospel soul of The Mynabirds' first album, What We Lose in the Fire We Gain in the Flood, but with an electronic twist. It may be happenstance that this kind of glossy ambient electro coincides with what other bands are doing, but the result feels slightly superimposed. I may be holding unusually high expectations. In shifting territories, The Mynabirds should try not to compromise on what differentiates them and lifts their work up.