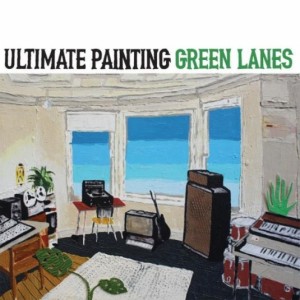 Arriving a little less than 12 months after their debut record in 2014, Ultimate Painting, made up of James Hoare from indie band Veronica Falls and Jack Cooper from Mazes, have unleashed another set of Velvet Underground-aping tracks into the wild, without falling into pastiche.
The vibe from Green Lanes is decidedly laid back, making its summer release all the more recognisable. This is music made for people to listen to in parks, in festival fields, by the beach, all with the sun shining down and the drinks flowing.  Closing your eyes whilst listening to 'Sweet Chris' can almost transport you to that sun-drenched spot, and is a beautiful slice of low-key indie-rock. This is in contrast to the autumnal sounds of the bands' eponymous debut, and provides a much more relaxed atmosphere to proceedings.
'(I've Got The) Sanctioned Blues' is a jauntier affair, and is almost as far away from the traditional sounds of the blues as one could find. Whilst the lyrics are sometimes incomprehensible, the musical backdrop remains solid throughout the record, never really breaking from its mid-tempo structure, but remaining interesting enough to hold the attention of the listener.
The record ticks by in a little more than half an hour, but it is a delightfully lovely half an hour spent in the company of Messrs Hoare and Cooper, who have produced a record which is just that – lovely. 'The Ocean' and 'The Ocean (Reprise)' are two solid instrumentally-led tracks, whilst 'Break the Chain', and all its mellow vocals reminiscent of a certain Stephen Malkmus, is almost tailor made to be played at barbeques and parties during the summer. Green Lanes wont revolutionise music, but then, that isn't its intention. What it will do is provide a superb backdrop to the summer, and be an antidote for the colder climes of winter in the latter half of the year.