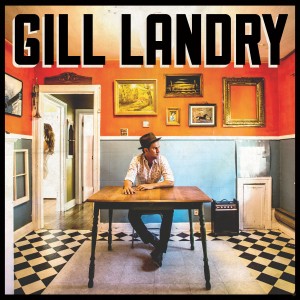 Gill Landry's self-titled third album is a collection of tales from someone who has learned proceeding with caution might be best for survival. The Louisiana native and long-time Old Crow Medicine Show member has created one of those go-to records for those with a saddened soul. 'Why do all the good things have to die?" he sings as opener 'Funeral In My Heart' draws to a close, a sure sign that his is not going to soundtrack too many parties. Landry's delicate voice and easy harmonica create a dusty Americana over which he deals with darker matters, and he has brought along an all-star cast to help him out with Laura Marling, Robert Ellis and Nick Etwell of Mumford & Sons helping out.
It is the held back 'Take This Body', placed directly in the middle of the album, that really showcases the spirit of this record. As the guitar delicately starts up, Gill paints a picture of a lone figure hoping for the best. By the time we reach the chorus he is begging to have his body taken, held tight and treated right before Marling's voice floats over to offer support and give bring this track to an optimistic conclusion.
The emotion is not turned down for one moment, and he saves the rawest topic for last as 'Bad Love' brings the record to a close. It's one we can all relate to as Landry considers how we can turn into people we don't recognise once stuck in a relationship that brings out the worst in us. The song can leave you feeling unsettled with those stinging memories of break-ups and mis-steps in the past, but Landry's voice is rich and strong as he offers hope that his new ex- can find something better in the future. This small offer of hope, though, gives you strength, and makes you feel as though another listen might do you good.
Words: Stevie Pearce