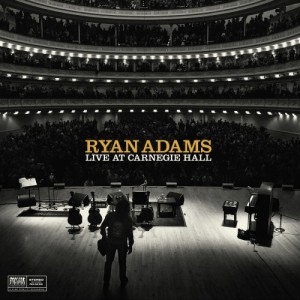 Ryan Adams' output over the last 15 years of his solo career has been nothing short of prolific, with a string of albums complimented by an array of one-off singles and side-projects. Perhaps it's no surprise then that when he produced a live album this year, it came in the form of the sprawling 42-track set Live At Carnegie Hall. To provide a more affordable version, Ten Songs From Carnegie Hall does what it says on the tin – a selection of highlights which showcases everything we've come to love about his songwriting.
Much of what has made Adams' career so compelling has been his ramshackle style. His career has not always been pretty, but it has always been pretty fascinating – the car-crash aspect of his occasional self-destructive streak meant you couldn't help but look. From that point of view, this looks like a pretty safe selection, and that's no doubt for the best. These 10 tracks have been selected to offer a full picture of his range, and how he can still perform them to a high standard. The tenderness and understanding of these songs shines through. The sweet and fragile 'Oh My Sweet Carolina' gets so close you can taste it, and sounds about as lovely as Adams ever has. It's so vulnerable he has somehow never sounded stronger.
This is more than just you're average live album. It works as a career retrospective as he revisits some of his best work and gives it new life. Acoustic and pared down, you can hear every breathe in front of a hushed, intoxicated audience. A pin could be heard if it were to drop. Instead, all we hear is Adams, his guitar and his harmonica. He hasn't always known how to best express it, but there is no doubting Adams' talent. This undiluted version is as close to doing it justice as anything else he has produced. After all these years he is still a marvel to observe and listen to.