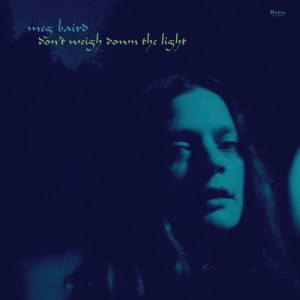 As a member of Espers, Meg Baird has been a key player in the 21st century psych­folk revival, with a string of critically­-acclaimed records. Equally impressive are her two understated yet exceptional solo albums, the most recent of which, 2011's Seasons On Earth, bore all the hallmarks of a cult classic. Though it's been four years since that album's release, Baird has been kept busy with her other musical projects; singing and drumming for folk supergroup Heron Oblivion, her ongoing collaboration with sister Laura in The Baird Sisters, and drumming for Philadelphia punk band Watery Love.
Expectations were always going to be high for the fabled "difficult third" solo album. Without straying too far from the template laid down on Seasons On Earth Baird has further cemented her reputation as one of modern folk music's most important musicians. Don't Weigh Down The Light sees Baird continue to embrace the progressive push of acid-­folk without losing sight of that music's forbears. There are echoes of beloved Brit-folk icons such as Shirley Collins, Sandy Denny and Bert Jansch. On the strength of this album Meg Baird is an artist who we should hold in equally high regard. Over a core backing of finger­picked acoustic guitar, her often beat­less songs are minimally enhanced with piano and pedal steel, leaving plenty of room for Baird's entrancing close-miked vocals to weave their magical spell.
Despite the album's mid­summer release and its winter­-like, icy-­breathed vocals, it's a record that resonates most with the melancholic season turn of the spring or autumn equinox. Those two times of year when we simultaneously look forward and back. This sense of sad reflection is present in the song titles ­'Past Houses', 'Leaving Song', and 'Even The Walls Don't Want You To Go'. It's these themes of moving on, leaving behind, regret, doors closing and chapters ending that point to this being something of a break­up album. An air of comforting sadness permeates most of the songs. That said there is room for optimism, conveyed through the minor to major key change towards the end of 'Stars Unwinding', and the joyful pop of 'Good Directions'.
Though perhaps less immediate than it's predecessor, Don't Weigh Down The Light is a more thought­out, nuanced affair. Very much a deeply personal record, and whatever heart­ache or heartbreak contributed to the writing of these songs, we should be grateful that Baird can convey such emotions with such beautiful honesty. She's proved once again that quiet is indeed the new loud. By concentrating purely on making sensuous, timeless music with heart and soul, Baird should rightly find this album featuring prominently on many albums of the year polls.
Words: Duncan Fletcher