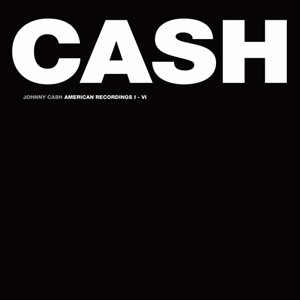 Though it may seem impossible to believe now, with his legacy assured as one of the greatest performers of the 20th Century, the legend of Johnny Cash and his irreversible dent on pop culture was nearly never cemented at all.
The eighties had been tough on Cash's career, as it had for many of his contemporaries, both artistically and commercially. While Cash's personal life had finally found stability, with sobriety and faith as his principle crutch, the venture into gospel music that followed had seen diminishing returns. To old fans he had lost his rebellious spark, and to the new generation Cash seemed damned to remain a has-been, naff, or worse: irrelevant.
The American Recordings would change all of that. Renowned producer Rick Rubin put the focus back on Cash's voice, both his physical voice and his spiritual one. Across six albums, beginning in 1994 and concluding posthumously with American VI: Ain't No Grave, Cash sounded more vulnerable with age but stronger than ever in his delivery. Collected together now as a complete set, their full effect is clear to understand.
When it first appeared, American Recordings was a shocking reintroduction to the brilliance of Cash. It might have ended up as a stand-alone album were it not so astounding as to demand follow-ups. Opening with the strained calling of 'Delia's Gone', with murder-ballad tendencies and American city name-dropping, it was for new listeners the perfect introduction to the Man in Black.
"First time I shot her, I shot her in the side.
Hard to watch her suffer,
But with a second shot she died
One more round, Delia's gone"
Like the long lost brother to 'Folsom Prison Blues', but with none of it its outlaw romanticism, this is the sound of a killer in regret, and it suits Cash in his sixties more than it ever did in the 1960s. The same benefit of wisdom, both in Cash the performer and Cash the human being is felt in his take on Leonard Cohen's 'Bird On A Wire'; quietly controlled, remorseful and heartfelt, and one of the strongest showcases for Cash's voice to be found in his whole career.
But the American Recordings weren't simply a venture into the past. Soundgarden's 'Rusty Cage' was reworked into a train-song shuffle (riff and all) on volume two, Unchained, and while the prospect of Cash taking on a U2 stadium-pleaser may not sound like the stuff of legacy-cementing beauty, the sparkling rendition of 'One' was a real highlight of American III: Solitary Man.
It has become impossible to talk of Johnny Cash cover versions, or effective cover versions at all for that matter, without talking about 'Hurt'. Inspired and heart-breaking, Cash's version on American IV: The Man Comes Around was a full-blown sensation and challenged its writer Trent Reznor of Nine Inch Nails to revisit his own relationship with the song. 'Hurt' is an iconic microcosm of Cash's ability to live within the meaning of a song, whether he wrote it or not, while the video – which showed Cash confronting his own mortality – was sheer brilliance that moved viewers to tears.
This conviction is where the enduring strength of The American Recordings lies. The song selection is itself a quiet walk through popular music of the 20th century (the likes of Beck and Geoff Mack are treated with the same cautious respect), but it forever falls to Cash to sell the song. And sell it he does, so much so that his original pieces are indistinguishable in style and tone to those of artists from an entirely different background.
Reflecting on these albums now, it is easy to see how the myth of Johnny Cash has persevered. Self-awareness in pop is a rare thing, with such a focus on energy, and the spirit of youth, it is so refreshing to listen to an artist embrace his old age, and let it fuel his music, even heightening its raw impact. Singing about cocaine and being on the run is one way to kick-start a career in music, but to hear him growl through Nick Lowe's 'The Beast In Me', you'll know there was only one way for him to finish it.
Words: Jack Olchawski