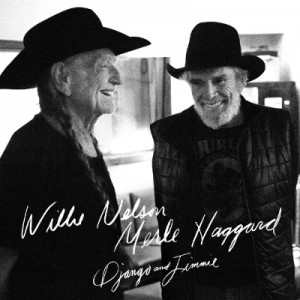 Putting two ageing legends such as Willie Nelson and Merle Haggard together cannot help but grab your attention. With more than a century's cumulative experience in music, they know exactly what they are doing and they deliver their sixth collaboration with all the assurance and style you could expect.
This latest record pays homage to two other great musicians, French guitarist Django Reinhardt and country music's famous singing brakeman Jimmie Rodgers. The pair recorded this album in just three days, but that is testament only to their professionalism and experience, and the strength of the inspiration they found in this latest project – as there is no sense of anything having been rushed.
This is country-blues made by expert hands. It is not going to change the world, or win over armies of new fans, but it will delight old ones with a sound steeped in American musical heritage. It is beautifully executed, further proof that musicians can grow old gracefully. Their ageing, impassioned and world weary voices are a constant treat to listen to. The way they work together is like a well oiled machine, constant and reliable.
Exploring the influence that Reinhardt and Rodgers had on their own careers, Nelson and Haggard pull together and intriguing mix of songs, from the opening title track through a handful of covers – including Bob Dylan's 'Don't Think Twice, It's Alright' and reworkings of some of their own best work, like Haggard's brilliant 'Swinging Doors'. A happiness permeates the mood of the songs – these two old-timers are having fun and want us to share in it. The standard never dips, and listening to music of this quality proves they are not yet done adding to their impressive legacies.