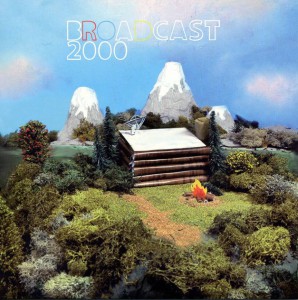 Broadcast 2000 is a fitting name for this London-based indie-folk what not. Although it's the first full-length album from the group, it will most definitely not be the first time you have heard them. Even without the discovery of their 2008-released EP 'Building Blocks', their sound is getting around. A film here (Yes Man), a soap there (Hollyoaks), even an ad blasted into every front room in the land.
While selling songs is sometimes seen as selling out, this group should be applauded… loudly. The first EP was merely recorded in frontman Joe Steer's flat, but it has propelled him and his band nationwide, if not further.
A bit of help from Kaiser Chief/Bloc Party producer Eliot James and Noah & the Whale's Tom Hobden on violin makes this album a hit waiting in the wings. It's eclectic enough to be accepted by some of the alt-folk fanatics, different enough to be listened to by those dipping a toe into the more avant-garde acoustic and commercial enough to be played all over every radio station and snapped up by the masses. It's pure pop, leaping into the scene after Noah & the Whale, Andrew Bird and Final Fantasy/Owen Pallett with a cello and fiddle foundation akin to a very English Vampire Weekend.
Steer, who says he never wanted to be the main singer, has a lovely, soothing voice with a huge range, often double tracked or forming the middle of a complex two- or three-part harmony. Its strings, rich harmonies, closely-recorded vocals and chiming xylophone make for a massive sound from delicate and sweet songs. All credit to the producer, although on occasions it's a little too slick, verging into the cringing 70s melt mess of The Feeling. It's a fine line. It doesn't help that Steer's pronunciation occasionally teeters on the edge of the glottal trend and over exaggerated English-isms of yesteryear, like 'Allo 'Allo's 'good moaning' policeman. Just speak normally Goddamn.
On first listen, Get Up and Go stands out like a sore thumb. But once you realise that it's the jingly jangly tune for the EON ad, you quickly pass it by. The real gems are The Outsider Steps In, the string-heavy but slightly musical-esque Don't Weigh Me Down and Your Own Worst Enemy, with a chunky cello sounding like a snorting and oinking saddleback writhing around in a muddy puddle. I Hold My Breath also sticks around in the old head, but I think it's more because the chorus is weirdly reminiscent of Lady Gaga's Disco Stick. Sing along!
If you like something a little rawer, best steer clear and go back to your James Yorkston records, but this could be the perfect mossy rock for those stepping over from the more mainstream.
Words: Gemma Hampson