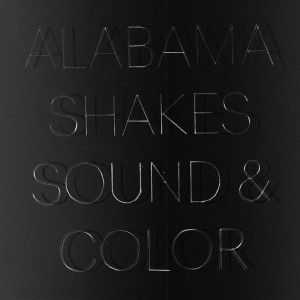 Having had one of the 'songs of the summer' in 2012 with the ubiquitous 'Hold On', which seemed to be playing all over the radio, in every shop, and at every festival across the world, Alabama Shakes took some time off, working upon the 12 tracks that make up Sound and Colour, their sophomore record. The intervening three years since the band's introduction to the world has seemingly paid dividends. Sound and Color is a huge improvement on the first record, and showcases the band's Rhythm & Blues playing abilities – especially the vocal range of singer Brittany Howard – creating a record which deserves an equal share of radio play as its predecessor.
Where on Boys and Girls the aim was to be bluesy, here, the aim is to bring an element of funk into proceedings. The bassline on 'Don't Wanna Fight', coupled with the echoed refrain of "Don't Wanna fight no more" lends itself to the dancefloor, and it is quite easy to see festival goers across the world dancing to this in the various fields the band will play in.  The lead single, 'Future People', reintroduces the listener to the talents of Howard, her voice in the upper register, at one point screaming the words, all whilst keeping control of the sound being made. It is one of the more original tracks on the radio at the moment, and has acted as a great way of announcing themselves back into the scene.
The band have a kaleidoscopic range of influences, ranging from the aforementioned funk-induced 'Don't Wanna Fight', to the more slower, contemplative 'Gimme All Your Love', and then to the country-tinged romp through 'Shoegaze'.  It shouldn't work as a whole, but it does, and that is to the credit of the musicians involved.  The name of the record is appropriate. Alabama Shakes have produced a widescreen landscape of sounds and vivid pictures, creating a record which seems destined to soundtrack the summer of 2015-much like 'Hold On' did three summers ago.
Follow Joe on Twitter @JoeSweeting