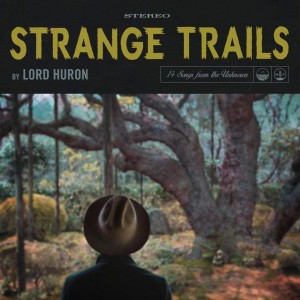 Michigan artist Ben Schneider's debut album as Lord Huron, Lonesome Dreams, was all about wide open spaces, its cover depicting a lone rider peering into a starless desert night. Based on a Western pulp fiction concept it found our hero following trails to the ends of the earth on an optimistic journey of endless possibilities. Critics made comparisons with Fleet Foxes, but Springsteen was a more obvious influence.
Three years on, things have taken a turn for the darker, with our traveller at the edge of a dense, shadowy forest on the cover of Strange Trails. Lord Huron continues with the fictional conceit but this time the central character is facing – or coming back from – death at every turn. Doomed love, graves, ghosts and days of reckoning are recurring images, Schneider proclaiming: "I get a laugh out of staring at darkness" on 'Hurricane'.
The lyrical mood is matched by a denser sound than Lonesome Dreams, this time a thick Americana stew with mariachi, rockabilly, country, Ennio Morricone, chamber pop and driving rock all stirred in. There are some great touches: the 'boom-chicka-boom' Luther Perkins-guitar ('La Belle Fleur Savage'), Springsteen-ish sax outburst ('Until The Night Turns') and intricate mandolin lines ('Way Out There').
But the sheer energy of tracks like 'Until The Night Turns' and 'Fool For Love' is eventually overpowered by the album's length and occasional feeling of overkill (in every sense of the word). Which is a shame, because the 14th and final track, 'The Night We Met', with its breathy female harmonies, is a fine, subtle exit, with Schneider imploring "take me back to the night we met…".
Strange Trails is a strong second album which will no doubt transfer well onto the stage across the US and Europe in coming months. Yet, although it may go against the pulp fiction grain, less does sometimes mean more.
Words: Pete Bate