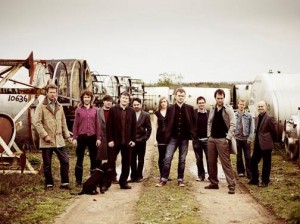 Legendary folk group, Bellowhead, have released a video for their new single Roll Alabama. The single will be the third from the band's current album, Revival, and will be released officially on April 20th.
April is set to be a very busy month indeed for the band, whose 11-strong line up will also be embarking on a full UK tour, playing the following dates:
April 16th –  Croydon Fairfield Halls
April 17th – Bridlington Spa
April 18th – Oxford New Theatre
April 19th – Truro Hall for Cornwall
April 20th – Guildford G Live
April 21st – Warrington Parr Hall
April 22nd – Ipswich Regent
April 23rd – Nottingham Royal Concert Hall
April 24th – Liverpool Philharmonic (Sold Out)
April 25th – Poole Lighthouse
April 26th – Basingstoke Anvil
What's more, the group have also just been nominated for BBC Radio 2 Folk Awards, in the 'Best Group' category. This is the third time the group has been nominated for this particular award, having won both times previously. They have also won the award for 'Best Album', and 'Best Live Band' a whopping five times. The BBC Radio 2 Folk Awards will take place in Cardiff on April 22nd.
You can get tickets to go and watch Bellowhead online from Ticketmaster. Watch the video for Roll Alabama below: