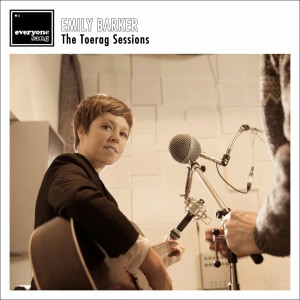 Once, every two or three years, an artist comes along so fully formed and talented that they fast become one of your favourite musicians, and when Emily Barker, supported by the very talented multi-instrumentalists of the Red Clay Halo, released their debut record Despite the Snow in 2009, this writer quickly fell under her spell. Now, six years and three records later, Emily Barker is releasing what can be touted as a 'greatest-hits', of sorts.
The Toerag Sessions LP sees Barker, alone, recording and reinterpreting some of her favourite tracks from her career thus far. The record is so called because that is where Barker recorded this album, following in the footsteps of Jack White, who recorded at the same studio with the White Stripes back in 2003. The mention of White is not just for show; Barker, much like White practices with his Third Man Records label, recorded these 12 tracks live, straight onto tape, with no digital interference. The result is something raw, something beautiful, and something so instantly timeless.
It is immediately obvious that this record is Barker's homage to her love of Americana. Her songs tell tales and paint vivid pictures, much like country records do, and the attention to detail for this passion can be traced through the songs and even the record cover itself, which sees a newly quiffed Barker staring into the middle distance, acoustic in hand, as if ready to begin recording. The best example of this story-telling can be found on 'Lord I Want an Exit', taken from one of Barker's first bands, the low-country, and detailing the sorrow and sadness of a man left behind by his partner's death; "Is there an Angel down the hallway/to take me to her side/I want death's dark veil to cover me tonight". Barker doesn't do false sentimentality; her voice cracks with the emotion and depth of the lyrics. It is almost as if she is singing direct to the listener, and for a musician, there are not many greater compliments that can be given.
The up-tempo toe-tapping, harmonica playing, hoe-down aping 'Blackbird' follows, and is further testament to Barker's ability in musical diversity, and what was once a favourite of the Red Clay Halo has been given new life with a new arrangement. It really is testament to Barker that she has the confidence and the skills to reinterpret and re-imagine tracks from her career. Not only is this record a chance to become acquainted with the stellar work of Emily Barker, for old fans, it serves as just another reminder of her talent. A masterpiece, by an artist at the very top of her game.