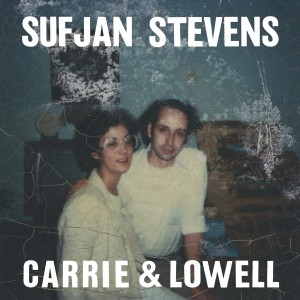 Sufjan Stevens' latest record arrives half a decade on from his last, The Age of Adz, an unprecedented break for a man who once promised he would keep himself busy for a lifetime by recording an album about every US state (we've still only had two of those to date). But when you listen to how good Carrie & Lowell is, and how much has gone into it, you no longer care how long it took. This is a homage to Sufjan's childhood, deeply ingrained with snapshots of his early life and the parents that raised him (or didn't). It 's a perfectly positioned look over the shoulder for a man breathing down on middle age, and pulled off with such effortless charm you cannot help but fall under the spell.
The whole record has been painstakingly mapped out to provide a window into the early life of its creator, to drill right down into his heart. Carrie, his mother who passed away in 2012, battled problems throughout her life and often left Sufjan for periods of his childhood. Lowell, Sufjan's stepfather for five years, now managers the record label Sufjan records for. To tell their story, Sufjan has returned to his folk roots, ditching the layers of instrumentation which took over so many of his later records for a minimal sound which allows space to float around the listener. It creates a subtle warmth, and you almost feel like you are participating in the process. There are brushstrokes of several instruments but they never deflect from or reduce the impact of the songs, the voice and the lyrics. The balance is mind-blowing, the tenderness and simplicity majestic. The back-to-basics approach is exactly what was required, letting the songs speak for themselves without unnecessary dressing up. Every sound is thought out, intelligent and filled with grace, almost like angels fluttering down from heaven. Either way, it's heavenly.
'John My Beloved' is like an open book, baring its soul, simply emptying out before anyone watching. The record is filled with exquisite songs, and by the time 'Blue Bucket of Gold' brings it to a close it seems both remarkable and completely natural that there hasn't been a dip in form since the record began. This needs to be heard, absorbed, and cherished.
After a lengthy absence, Sufjan has returned with his sweetest, most sublime record yet. A decade on from the heights of Seven Swans and Illinoise, he has come back with something that trumps all that went before. Carrie & Lowell is his most personal and affecting release. This is an album to call a friend, a companion for good and bad days, the coldness of winter and the warmth of summer. It is a low-key masterpiece, but a masterpiece all the same.