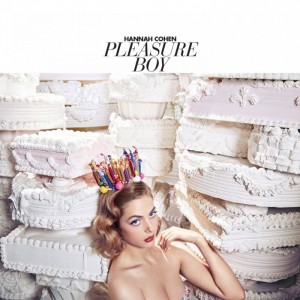 Having been touted as the 'new' Lana Del Ray, Hannah Cohen returns with the follow up to her 2012 release Child Time with a much more stylised, bolder release in Pleasure Boy.  On a base level, it is a record about heartbreak and loss of love, as evidenced on 'Keepsake'; "Tell me you still love me…if I ask you to leave her, would you?' yet, scratch the surface, and what you find is a well crafted 'pop' record, shimmering keys and woozy vocals creating a late-night atmosphere founded on despair and longing. 'Lilacs' seems destined to be the backdrop for break-up moments on TV shows; Cohen's voice full of emotion.
'Watching you Fall' sees Cohen channel her best Rufus Wainwright impersonation, the track led primarily by the simple piano chords, and carried by Cohen's soaring voice. If Wainwright is the benchmark for singing about love and desire, then Cohen does a fine job of rising to the challenge, as she sings about 'Watching you fall/again and again'. The metaphor is clear. Rather than lament the loss of love here, Cohen is instead watching her former lover 'fall' again. Interestingly, Cohen keeps some of her sorrow hidden from the listener, and the lyrics found in Pleasure Boy can be thrown open to interpretation. 'Fake It' is an example of this. As Cohen sings about 'Faking it, everytime', it is not immediately clear as to what she is faking, although one can make a clear guess.
The emotions found within 'Clairemont' elevate the track, and is perhaps indicative of Pleasure Boy and its tone. With Cohen's voice lilting and lifting over sparse keyboards, it cracks and breaks over the words which no-one in a relationship ever wants to hear; "Why won't you just love me?' The 'just' is intentional, almost as if everything would be fine in Cohen's world if the other party reciprocated the affection.  Anyone who has ever had feelings for someone without response may feel that this resonates with them.
Pleasure Boy, then, is a fine record, and it moves Cohen away from the somewhat unfair association with Lana Del Ray. Cohen is far more adventurous in her production, and this is a worthwhile addition to the collection of those with a penchant for heartbreak and lovelorn records.