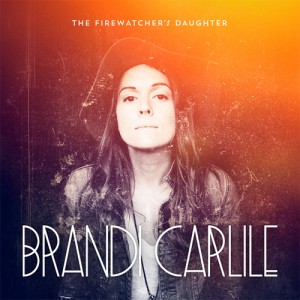 Brandi Carlile has a firebrand of a voice. It has shades of country, pop and blues in its powerful range, a little like a female version of Ryan Adams. Her music is cut from the same cloth, a commercial take on Americana but with just enough of its heart on its sleeve.
The Firewatcher's Daughter, her fifth studio album, is an enjoyable, upbeat affair strong on melody. At its most radio-friendly moments – like the driving country song 'The Things I Regret' or the slightly too slick 'Mainstream Kid' her voice is ferocious, almost spellbinding, but it is on the more fragile songs that you really begin to understand her charms. You can hear the passion drip from the speakers. The opening notes of 'Beginning To Feel The Years' fully reveal the beauty she can wield. It's instantly gripping, tender and heartfelt. It never takes off as a song, delicately holding back as a near-perfect ballad. Immediately after, the countrified 'Wilder' delivers another sweet dose of her voice, powerful and fragile all at once.
The album can be frustrating, though. The second half follows the same format, blending fiery guitar pop with tender ballads. The balance isn't bad, but it feels like its ticking boxes at times. The quality of the songwriting holds up, but it can feel a little too safe. Over an album of 12 tracks there should be the time to push the boat out a little further. There is no denying that Carlile has a gift. It would great to see her challenging that talent a little more next time around.