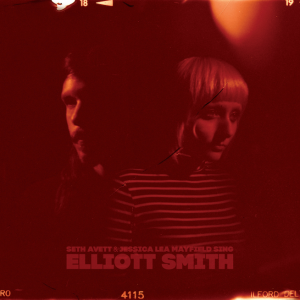 Covers albums are notoriously difficult to pull off effectively. Mixing the necessary reverence to the artist whose tunes are being re-rendered with trying to tease out additional nuances is fiendishly challenging. For those that pull off the trick like David Bowie's Pin Ups and Cat Power's The Covers Record there is a shocker like The Beautiful South's Golddiggas, Headnodders and Pholk Songs. So an album of Elliott Smith covers makes for a particularly testing task, not that this effort from Seth Avett and Jessica Lea Mayfield is anything other than a labour of love, albeit a somewhat apologetic one.
But Smith has been dead for less than 12 years. His back catalogue, criminally under-appreciated during his lifetime, is still being discovered, understood and adored by those who were either too young to have got into Smith at the time, or those who simply did not have him on their radar. Smith's presence feels almost too near for a covers album to be necessary so soon after his tragic passing. That is not to say this release should be dismissed just because of its timing, but it is hard to deny it is a factor that counts against it.
Covering an artist who so idiosyncratically blended lovingly constructed pop songs with astonishingly dark and unsettling lyrical content adds a further challenge. Do you stay loyal to the beloved originals, or do you attempt to put a new spin on them? In this case Avett and Mayfield go more for the former than the latter and it weakens the impact of the record. On the plus side the tunes where the pair share vocals do at least add a new perspective to the largely faithful renderings, especially on 'Baby Britain' and 'Somebody That I Used To Know'.
The highlight of the record is Mayfield's grungey take on 'Roman Candle', with the female vocal adding an even more malevolent and sinister tone to the chorus. The pity about her superb rendition is that it shines a spotlight on what is missing elsewhere. Songs like 'Between the Bars' and 'Fond Farewell' just stray too close to the originals and while the affection for the music is genuine and tangible as you listen, you feel like Avett and Mayfield are so in thrall to Smith's work that they are too reluctant to take too many risks with arrangements. They cherish the songs so much they cannot bring themselves to alter them.
Ultimately, this is a lovely listen, a reverent tipping of the cap to Smith's stunning music and legacy. But it only leads to the desire to want to hear these compositions through Smith's own voice. I reached for my copy of Either/Or at the end of my first run through Sings Elliott Smith. Maybe that was Avett and Mayfield's idea all along, and if so they succeed in that regard.
Words: Andrew Gwilym