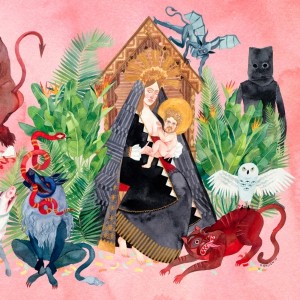 The role of Fleet Foxes drummer and backing vocalist was never enough to satisfy Joshua Tillman. But there were only a few hints in the solo records he used to put out in his own name as to the scale of the vision he would unleash once he took on the persona of Father John Misty. His second record under that name makes plain his ability to construct and execute stunning songs with an uncommon warmth. It drips with charm which makes you forget his past identities and think only of his importance as a songwriter and artist in the here and now.
From the gripping and dramatic opener, title track 'I Love You, Honeybear', Misty has his claws in you. It's a spellbinding and beautiful opening. His voice is racked with emotion, the strings soar, and the atmosphere feels epic. He gives the listener a colossal aural hug and sets things up perfectly for the next ten tracks. His music feels warm but there is ample darkness too. The accompanying music supporting him is wonderfully balanced and sensitive to the messages and the voice that carries them, but it is the lyrics, the way they are delivered and the lovely melodies that make this record such a stunning achievement. It feels so simple and timeless it could have been made by Neil Young in one of his finest moments. There is certainly a sense of that golden American folk pop sound, though it sounds equally of 2015.
The title of 'When You're Smiling And Astride Me' tells you it's a fairly intimate number, and the song is sweet and tender – one to get plenty of people swooning. The guitar solo notes are few, but pierce amazing holes through which bursts of light appear. It's hopeful, soulful, utterly gorgeous. Just as beautiful are the fuzzy guitar solo at the end of 'Ideal Husband' which hurtles the track towards its own end, and the clarity of Tillman's voice on 'Bored In The USA.' This is one of the sharpest and most in-focus moments of the whole record. Powerful lyrics speak of how time and its passing affects us. It's easy to fall in love with something we can all understand so easily. His simple play on Springsteen's classic title is backed up with stories of how America's upper crust lord it up over those that matter now. An old familiar story is delivered with great humour by Tillman.
With January barely behind us it already feels as though we've heard a number of records worthy of our end-of-year lists. It's unusual to have been spoilt by such a wealth of good music only five weeks in, but I Love You, Honeybear undoubtedly fits into such a category. It's edging towards a classic, and it opens up a world of possibilities for a man who is clearly still growing, finding his feet, and leaving behind the band that made him famous in the first place.