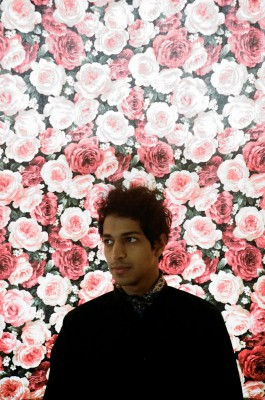 How would you describe your music? 
Well, The Ballad Of Willy Robbins is my debut album. It's an album that follows the story of a working-class man as he struggles not only with work, but with love, lust, health and loyalty. The idea for this album was inspired by a newspaper article, in the tradition of songwriters influential to me early on like Woody Guthrie and Pete Seeger.
I seek out song ideas from events happening presently: epidemics like lack of health insurance options, apathy for government change and small business being elbowed out by big business… I wanted to sing about these things through the scope of one man's struggle.
When did you first realise this music malarkey was for you? What does music mean to you?
At its best, music is a means of expression that transcends the superficial world and cuts right to the core, no matter what language you speak or which clothes you wear. Music to me reaches that depth (at its best) and it's always been for me.
What's the worst thing about being a musician?
Piracy, as it devalues our art form and makes songs gloss over like advertisements in a magazine. Songs are too easy to take and most people are bombarded with too much information now. Even I'll admit that I have less of an attention span for music and songs. It's a balance though; you can find out about amazing musicians with the internet, but it has made it difficult for us musicians to make a living as musicians.
What do you write about and what inspires you? 
I write about dissatisfaction, things that make me feel compelled to say something. Inspiration though is an abstruse force.?
If you could invite three music artists round for dinner, alive or dead, who would they be and why?
Bob Dylan: To look into his eyes
Nina Simone: To listen to her speak
Pete Seeger: To shake his hand
What are you most proud of in your musical career, to date?
Releasing an album that I didn't compromise on.
If you could have written one song, which would it be and why?
'You Can Never Hold Back Spring' by Tom Waits.
I've watched this version a bunch and it goes back to my answer above about where music can reach.
What are your ambitions for your music?
I don't have an answer for this right now.
Finally, we're always looking to expand our musical horizons. Do you have any recommendations of bands or artists we should be looking out for?
Tobias Jesso Jr. and Barna Howard?
 The Ballad of Willy Robbins is out now via Loose Music
Vikesh will be on tour starting later this month, playing the following dates:
Feb 21 – Levi's Bar – Ballydehob, Ireland
Feb 22 (early) – Pine Lodge – Myrtleville, Ireland
Feb 22 (late) – De Barra – Clonakilty, Ireland
Feb 23 – Mick Murphy's – Ballymore Eustace, Ireland
Feb 24 – The Workmans Club – Dublin, Ireland
Feb 25 – The Errigle Inn, Belfast
Feb 26 – Kelly's Bar – Galway, Ireland
Feb 27 – The Greyhound Bar – Kilkee, Ireland
Feb 28 – Leap Castle – Roscrea, Ireland
Mar 1 – Coughlans – Cork, Ireland
Mar 3 – Takk – Manchester
Mar 4 – The Adelphi – Hull
Mar 5 – The Cluny 2 – Newcastle
Mar 6 – Moon Club – Cardiff
Mar 7 – The Chattery – Swansea
Mar 8 – The Royal Oak – Bath
Mar 9 – The Islington – London
Mar 10 – The Verdict – Brighton