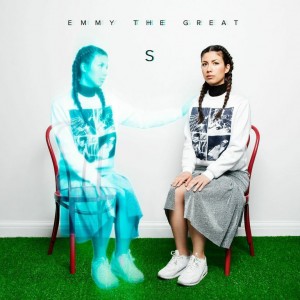 The magic of Emmy The Great's latest EP is undoubtedly contained within 'Swimming Pool.' Make no mistake, the track should be and probably will be heard widely over the course of 2015. It's a fine slice of modern synthesised pop. It has hooks and claws, and won't leave any listener alone. It creates great excitement around Emmy's next studio album. And while the other three songs don't quite reach such marvellous heights, there is a lot to show Emmy's fierce knack for writing pop and hitting her audience square between the eyes.
It's been a long time coming for new music from Emmy. Her second record is now almost four years old, and this new EP indicates a newly-matured sound, a woman grown and ready to change direction. There's a hint of Lana Del Rey in the grandiose and cinematic feel of 'Swimming Pool.' Emmy has gone away and come back with something big, bold and beautiful.
The EP may not sustain such heights but there is plenty more to explore. 'Social Halo' reaches for the same epic air as the opener, while 'Solar Panels' mixes compelling dance breaks and soaring nightclub choruses. 'Somerset' (the final track, and yes, the fourth beginning with an 'S' to give the EP it's name) is gentle and emotional, almost like a whisper in the ear of the listener.
It's a great start to the year and will surely invite only excitement for Emmy's next long player. Let's just hope she hasn't missed some of her best tracks off, as there is a wealth of worth here for just an EP. Welcome back, Emmy, this is a fine four-track EP and hopefully an indicator of what is to come next.