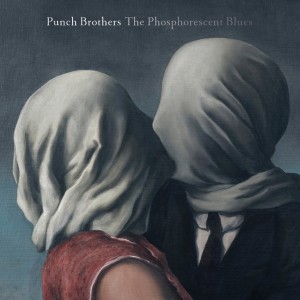 Was anyone aware that prog-bluegrass-folk existed? And that it could be pulled off not just competently, but thrillingly? Neither was I until I gave The Phosphorescent Blues, Punch Brothers' fourth album, a spin. A 10-minute opener may not be what most would expect from a bluegrass group, yet this is a band who have written several epic tracks, and performed songs ranging from Radiohead to Bach to the Carter family. In other words, complexity should be a given.
'Familiarity' may be an odd title for such a rampaging open-ended beginning but it is arguably the finest track on the record. It ebbs and flows, rises and falls and manages to take the listener all the way with it. It is also just a taster for an album full of surprising left-turns, not all of which are successful. There are nods to Debussy and Scriabin and Punch Brothers are comfortable turning their hand to all matters. The problem is the complexity becomes overbearing and can end up making this a testing, rather than intriguing, listen.
That complexity means the pop sensibilities of songs like 'Magnet' and 'Between 1st and A' come as a fine relief but also hint that the band may be failing to play to an obvious strength. Not that ambition should ever be criticised. Yes, this is uneven in places and something of a sprawl to get through, but it is a bracing, energising listen and some of the flaws are overshadowed by the manic energy and virtuosity on show.
T-Bone Burnett's production deserves credit too. It is bright and crisp and brings out the energy and verve in these performances. One has to admire a band so restless, unwilling to sit still and play by numbers, and this is unquestionably a fine album. But you cannot help but wonder if a tighter focus would have made The Phosphorescent Blues the career-defining work it could have been.