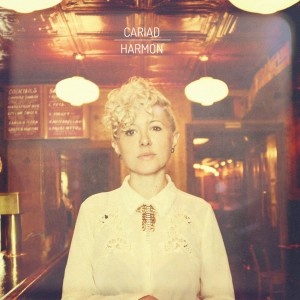 English-born with a Welsh name (Cariad means 'love'), and living in Brooklyn. It provides an eclectic background which is clear to hear in Cariad Harmon's excellent self-titled effort. Before we get to Harmon's warm, expressive voice, her supreme guitar work needs to be acknowledged. One part jazz and two parts folk, her nimbleness brings to mind no less than Joni Mitchell and Joan Baez. It proves guitar playing at its most subtle yet effective.
Her voice remains every bit as startling as on her first record. Beautiful, pure, clear tones.
So far this probably paints the picture of quiet, pastoral folk, but Harmon carries a bite within her words. 'Shame' is arguably the most gripping song here. Spare, almost pretty, but with a devastating pay-off line as Harmon declares her sometime dissatisfaction with her craft. 'Sometimes I don't give a fuck' she intones while sounding pleasantly pleased with herself. New York itself also comes in for a bit of stick on the sharp, biting Wicked Town which owes more than a passing debt to Lucinda Williams.
The contradiction follows a few numbers later by the anthemic, delightful 'I Want to Be Famous'. The abrupt turnaround gives hint to the restless edge beneath these songs. Harmon is going somewhere and she is in a hurry to get there and have you know about it. A point maybe bext expressed on the lovely and humorous 'You Don't Know Me Yet'. Those who don't know her yet will do soon, if this record is anything to go by. It's a little gem.
Words: Andrew Gwilym