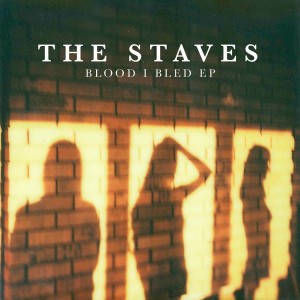 It's been two years since the sisters Staveley-Taylor – Camillia, Emily and Jessica – rose to prominence with debut full album Dead & Born & Grown receiving critical acclaim on both sides of the Atlantic. After expanding their fan base into America thanks to shows at the South by South West festival, the trio supported Bon Iver on their US and Canada tour and left a lasting impression as front man for the folk favourites Justin Vernon jump on board to produce this latest EP which reminds us why we love The Staves so much.
'Blood I Bled' naturally headlines the EP and was released to the world to more positive reviews back in September with Lauren Laverne playing the track on her 6 Music show. The track begins with a pattering beat before those familiar and striking vocals kick in. About a minute in, you're knocked off your feet of with a storming rhythm propelling the song to even loftier heights. It's an enchanting journey from there on in and you just don't know where it's going next. Even after the song fades after four bewitching minutes you're left begging for more.
Luckily, there's more treasure to be found on the EP. 'Open' sets the tone with delicate harmonies prompting memories of when the band first broke into our hearts and minds. For good measure, there's a bonus Vernon remix of the song that creates a solid book end to the EP. Before that, though, there's just a little bit more of the bands' treasures to explore with 'America' turning the corner with a slight country twinge that shows off even more of the sisters' diversity.
You can certainly hear the influences Vernon has had but there's just as much of the bands' maturity to be acclaimed here. Blood I Bled is a hugely welcome return for The Staves and with a short, sold out headline tour just finished and European support slots with Angus and Julia Stone coming up in the coming months this is just the beginning of the next stage of The Staves' wonderful development.