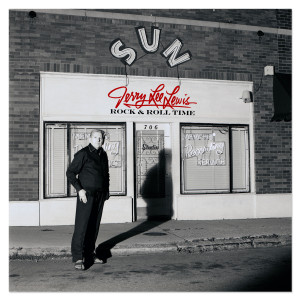 There's a video on YouTube from the Madison Square Garden concert to celebrate 25 years of the US Rock 'n' Roll Hall of Fame. After a brief introduction from Tom Hanks there dodders onto the stage, alone, an old man, who proceeds to sit at the piano and perform, without backing, his biggest hit. Frequently he is off key, he hammers numerous bum notes, and at the end this frail, elderly old feller attempts to recreate his signature stage-move, leaping from his stool and kicking it away in reckless abandon. Only tonight he rises with some difficulty, and the stool topples feebly, rather than careering across the stage. It should be an almost unbearable, cringe-inducing spectacle, worthy of pity or scorn, depending on your taste for such things, but the crowd erupts. It erupts because this old man is Jerry Lee Lewis, the Killer, and he was there at the beginning, he made it all happen. When he says he's on Rock 'n' Roll Time I believe him.
Jerry Lee Lewis was going to be the next Elvis, another semi-scandalous hick from the Southern States whose music, packed with as it was with sin and sex, blew a hole in the staid pop-culture of the mid-1950s. But the Killer was wild: his appetite for sex, drugs, damnation and guns puts him in the top tier of 20th Century hellraisers, and the man was already strong medicine even before he turned up at Heathrow airport with his 13-year-old bride and essentially killed his career stone dead.
Yet somehow he endures, outliving his contemporaries by decades, and it's hard not to admire that, or the swagger that infuses this new album, which is really nothing more than a handful of bar-room jams with assorted rock royalty (including Keith Richards, Neil Young and Robbie Robertson). Standards like 'Folsom Prison Blues' and 'Little Queenie' are peppered with the old bastard's hoary, lived-in laughs and asides. It's quaint, perhaps, but Jerry Lee doesn't simply hark back to the old-timey rock 'n' roll of the 1950s. He is that sound; he helped invent it, and the fact that he's still around to make it is worth celebrating.
Plus, on a couple of occasions he still manages to capture the old magic: 'Keep Me in Mind' and 'Promised Land' in particular are memorable stomp-alongs worthy of a few broken bottles late at night in some godforsaken highway bar. At 79 years old, Lewis is in fine voice: he doesn't croak or crackle like the young pretenders who came along in the 1960s to make him obsolete, only to end up imitating those primal earlier sounds (like Bob Dylan, who's (You Treat Me Like a) Stepchild is covered here). It's only fair that the Big Guy gets his taste.
After all, he may look frail, but he's still got the old fire burning: at Madison Square Garden, he saw that the stool had only toppled sadly at his feet, so he grabbed it and flung it into the audience.
Words: James Robinson