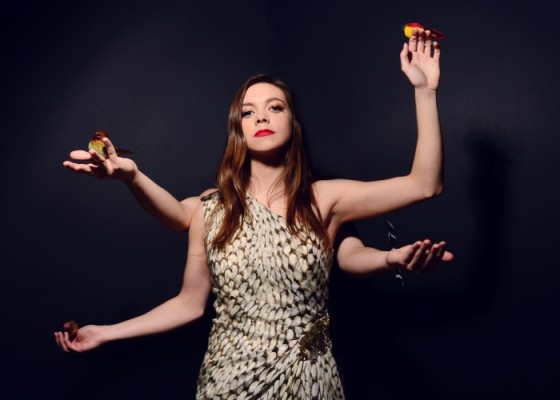 Arc Iris played Rough Trade East this week to a smattering of indie-folk fans. There aren't more than 30 people looking at the stage, and some of those are standing noncommittaly behind the protection of the first row of records, as if a afraid that full exposure to the gold-and-sparkle-clad musicians onstage might cause radiation poisoning.

It's hard to wok out why Arc Iris, who are fronted by ex-Low Anthem member Jocie Adams, haven't drawn a crowd. Their self-named album has been out since March, and Their genre-bending, persona-shifting sound takes in jazz, folk, indie-pop and a hell of lot of undefinable stuff besides. It's fun and it's clever. People like fun and clever, right?

The lyrics are idiosyncratic and accomplished by and large, and onstage the talent and experience of this band (pared down to four and missing bass and trumpet players) is palpable.

Adams' voice has more than a touch of the Joanna Newsoms about it: air-shrill, warmly knowing and squawkingly loud by turns, she's well-suited to life front-and-centre stage in Lycra.

'Canadian Cowboy' live misses its mournful trumpet, but has the balladic variation to grip the interest.

'Singing Sweetly' is way more fun: scatty, ferocious, mischievous and hyper-playful, Adams purrs: 'I am kitty cat, I keep on curling up', and I really wouldn't put it past her.

'Powder Train' is a witty country number about that white stuff daft people use to wake themselves up: a witty meander through drug dependence, snowy wonderlands and love of stuff.

Four band members, three keyboards, two clarinets and a moon covered in tin foil make for a diverse late summer spectacle in plastic flowers, gold jumpsuits and glittery tailcoats.

Arc Iris are supporting The Felice Brothers tonight at The Forum.