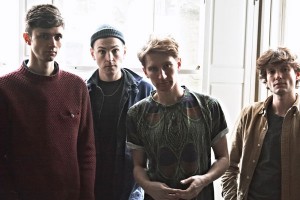 Glass Animals have announced details of their new single 'Hazey' and have unveiled its striking new video.
'Hazey' will be released on 13th October 2014 through Wolf Tone/Caroline International. It's taken from their acclaimed debut album ZABA, and produced by vocalist Dave Bayley.   The video features the incredible talents of the Solitary Crew, a London based dance collective performing a unique style of street dance called 'bone breaking'. You can watch the video for 'Hazey' below:
Commenting on the dancers' technique, Bayley said: "Every day these dancers put themselves through torturous stretches and contortion exercises using ropes and towels to make themselves more flexible and their movements more fluid. They isolate themselves and focus on slowly building their craft, with a long term goal of being able to add another dance-move to their catalogue, and a longer term goal of stitching those moves together into something cool and beautiful. It all requires a huge amount of dedication and discipline.
"To me, Hazey is about a parental character who has abandoned those values and eventually becomes wracked by regret. That character speaks in the choruses in the falsetto voice. The verses are spoken by that character's child in full voice. This boy has matured quickly to pick up the pieces dropped by his parent. It was his attitude that I thought was summed up by the bone breakers."
The release of ZABA at the beginning of the summer has been the catalyst for an incredible few months of relentless live performance for the band across the globe. Having been streamed over 20 million times to date across the world (and hand-picked by Spotify US for their prestigious Emerge shortlist), their record has been fully reimagined live to packed tents and sold-out venues across the UK, Europe, USA, and Australia.
Glass Animals' forthcoming autumn tour of America and UK includes a number of sold-out shows in New York, LA and the Oval Space in London.
Glass Animals Live
4th September – Bestival, Isle of Wight
10th October – Magnet, Liverpool
11th October – Sound Control, Manchester
13th October – The Haunt, Brighton
14th October – Oval Space, London SOLD OUT
15th October – Thekla, Bristol
16th October – The Plug, Sheffield
17th October – CCA, Glasgow
18th October – Whelan's, Dublin