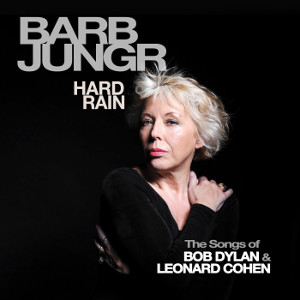 In Hard Rain Barb Jungr pays homage to some of the most violently political songs of a pair of legendary storytellers and songwriters.
Mingling the angry, searingly clear-sighted songs of Bob Dylan with the indignant, rage-imbued writing of Leonard Cohen, Jungr brings her cutting insight into the mix, breathing a visceral passion into vintage songs which still have so many brand new things to say about human stupidity and ugliness.
Her cabaret style, replete with old-school jazz influences and authentic northern soul (Jungr was born in Rochdale) layers new despair into 'Hard Rain', filling it with fresh desperation and fury. The song's bleeding trees and hammers continue to haemorrhage into the landscape of the twenty-first century, leaving little room for anything other than tears.
Jungr has been reinterpreting the songs of both artists live for many years, but this is the first of her albums to include her Cohen covers, sitting so naturally alongside Dylan's work. The pair, she says, 'have a core of political awareness, and they've both written very truthfully, and with a laser-like precision, about who we are as people'.
'Masters of War' is painful and exhausting: a fragile, foreboding arrangement of flute and piano gives a disturbing, insidious power to a song that's more than half a century old. The question is still as painful and relevant today: why bring forth children into a world where power is endlessly, idiotically destructive?
The jazzy arrangements are a touch too 'cabaret' for our tastes, but there's no questioning the artistry of this rarest of things: a deeply challenging covers album.
Tracklisting:
1. Blowin' In The Wind (Bob Dylan)
2. Everybody Knows (Leonard Cohen and Sharon Robinson)
3. Who By Fire (Leonard Cohen)
4. Hard Rain (Bob Dylan)
5. First We Take Manhattan (Leonard Cohen)
6. Masters Of War (Bob Dylan)
7. It's Alright Ma (Bob Dylan)
8. 1000 Kisses Deep (Leonard Cohen and Sharon Robinson)
9. Gotta Serve Somebody (Bob Dylan)
10. Land Of Plenty (Leonard Cohen and Sharon Robinson)
11. Chimes Of Freedom (Bob Dylan)
Hard Rain is out now.