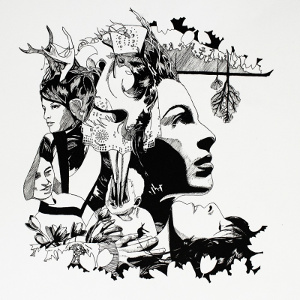 In Undress, adoptive Mancunian Jesca Hoop's acoustic reworking of 2009 release Hunting my Dress strips five-year-old songs down to the bare, scintillating bones with magnificent results.
Welcoming Elbow's Guy Garvey, Willy Mason, Erika Wennerstrom (of Heartless Bastards) and Samuel Beam (AKA Iron & Wine) for four gorgeous, vastly different duets, she breathes the vibrancy of live performance into this masterful recording.
It's not all acoustic guitars: there's room for the occasional drum and the odd electric guitar on tracks like the foot-jumping 'Four Dreams', but on Undress, word and melody rule.
"Before any bell or whistle," Hoop says, "there must be a great tune in place to capture the imagination."
Opening track 'Murder of Birds' (a  beautiful, warm duet with Garvey) is a thing of unquestionable beauty. Snakes are coiled ready to strike, contrasting sharply with the comforting image of a turned-down bed as the dangerous and the domestic clash.
'Four Dreams', in contrast, is a rambunctious stomper of a song, set in the woods with animals dancing round a stereo (bringing to any Disney-infected mind images of Snow White wending her way through the forest with a boom box on her shoulder). Bees fly from noses, skunks and owls flock to join the party, cuckoo clocks chatter and milk and honey flow.
Undress is an incredible, varied and surprising album, but 'Whispering Light,' a duet with the brilliant Willy Mason, stands out as extraordinary.
A perfect joining of voices atop sharps and flats that lean toward the discordant but stay firmly in the 'classic duet for all time' camp, it's terribly, exhaustingly beautiful (as is, in fact, the entire bloody album).