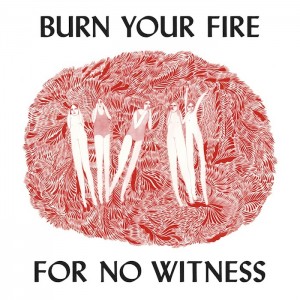 Right from the off Angel Olsen has a style all of her own. The hazy opening of Burn Your Fire For No Witness sounds like a woman strumming and singing while she dreams of a love she has lost. It's a tender and lovable start. 'Forgiven/Forgotten,' the second track, then kicks us out of the initial dreamy spell with great zest.
From the crunching guitars and short burst rock songs, such as this second track, to their sweet and tender counterparts Angel has a good range of material. The slower, almost broken songs have a real vulnerability, showing how she sees the world. It is this tenderness that is at times truly fascinating. The rockers are good but they don't get under the skin in the same way. She works her magic much more over the longer songs.
The first moment that truly has the hair standing up on the neck is fourth song, 'White Fire.' It burns slowly, some of the lyrics are immediately breathtaking. When she sings that 'I heard my mother thinking me right back into my birth,' it's almost traumatic how riddled with regret and sadness the song and its words are. Then there's a line about memories causing tears to fly out of eyes. It's delicious, and the words effortlessly fall from her tongue. It's scathing, it's heartbreak. It's almost too perfect to believe. The music is creepy, but somehow comforting. It is a remarkable song for its nigh on seven minutes. After, the would-be-title track has ended the listener might need therapy so intensely beautiful was the experience.
'High and Wild' brings us back down to earth. It's a jaunty guitar pop song that sounds like strolling down the streets with little to care or worry about. When her voice takes off around the halfway mark she snaps you from the almost-slipped-into-daydream.
The dancing semi-maniacal warblings of 'Stars' match the shuffling beat beautifully. It's catchy as hell, and by now the album has truly gripped its listener. There is a passion in Angel's voice that loudly whispers that she is sharing herself with us.
The bleak calypso tale of 'Iota' which speaks of dancing 'our way to death,' whilst being one of the slower songs paints a completely different portrait to the previous songs. Parting shots 'If only we could always stay the same' and 'We could turn our bodies inside out' ring in the ears after her voice and the song have left us behind.
Penultimate track 'Enemy' is so minimal the voice really hits home. An acoustic guitar is strummed in an astonishingly fragile manner. The voice is left to do the rest. The words are clearly sung. It's stunning again, as it teeters on the brink before it finally gives way to the closing number.
Final track 'Windows' again leaves its mark and is a fitting curtain call. This song from start to finish has one of the finest vocal parts of the whole album. It soars and sinks, it provides goose bumps for a finale, and it has the sense of authentic emotion that much of the album carries, in fact, is almost weighed down by. It's a gorgeous ending. The way her voice takes off is absolutely sublime.
A cracking album, and an indication that Angel is finding her voice and getting better as a songwriter. From here she could go anywhere. For now, she has made a very, very good album, and it'd be compelling to see these songs blossom in a live scenario.
Words: Dominic Stevenson