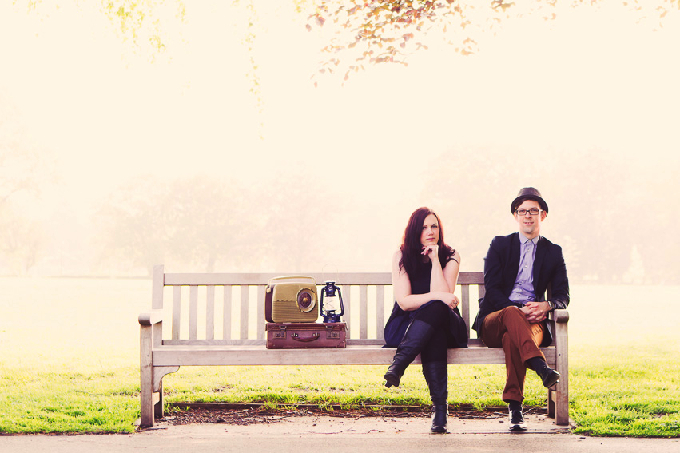 Hello, please introduce yourself and your music to the uninitiated.
Rach: We are Stylusboy, a folkish pop duo from Coventry!
Steve: People have compared us to The Civil Wars, Lady Antebellum and The Swell Season. We have been around for a few years and have released a series of handmade EPs. In March last year we signed with Wild Sound Recordings, which is a label ran by Polly Paulusma.
Tell us a bit about your latest release?
S:  In November last year our debut album Hospitality for Hope was released on Wild Sound. We had a wonderful time writing and recording the album. John Parker from Nizlopi and our label boss, Polly, contributed to it. We always want the physical releases of our music to be interesting so we take a lot of time and care with each release. We have hand-stamped every copy and sewn together the little booklet which accompanies the album.
What was your best ever gig?
R: Probably Green Note Cafe in London with our label boss Polly Paulusma! It was a really relaxed and friendly atmosphere and the audience were very attentive. The food was great too, although Steve was a big girl's blouse with the spicy samosas!
S: Shhhhh! Yes, Green Note was a particularly lovely show. It was our first time playing in London and the venue is just such a great place. I think my favourite other gig was our album launch show in Coventry at our local venue, The Tin Music and Arts. We launched the album with a full band backing us and it was a lovely celebration of the album surrounded by friends, family and fans.
What's the worst thing about being a musician?
R: Fitting music around your everyday life. It's exhausting, but we wouldn't have it any other way.
S: Yes, the best and the worst thing is the hard work. We do quite a bit of driving around to shows and it's not something I really enjoy I must admit, particularly when we get stuck in traffic jams.
What inspires you?
R: Ordinary people who do extraordinary things and extreme acts of kindness. Great songwriters.
S: All sorts of things really. In terms of writing songs, it can be a personal experience or just a phrase that someone says. Films, or as Rach said, extraordinary people. I do find other musicians incredibly inspiring too.
If you won a billion pounds what would you do with it?
R: I'd go on a round-the-world trip. Then I'd buy houses in all the places I loved. I've always said I'd have a personal chef too! I think I would give a large amount of it to my family.
S: Rach's plan sounds like a good one. I'd buy an amazing VW campervan and visit lots of amazing places. I would give a lot of it away to people.
Which of your songs is your favourite and why?
R: There is a song on our album called 'Chasing the Light' which I think is my current favourite – I just love the lyrics and quietness of it. John Parker played some gorgeous, bowed, double bass parts on the recording too.
S: Hm, it changes quite often. I think on the album one of my favourites is 'Goodbye Day' because it took us a long time to get the song to its finished state. My favourite song to play live is probably 'Lantern'.
What are you plans for the future?
R: To write more songs and play music shows to more people.
S: To push ourselves as songwriters and play in different places. To continue to meet more amazing people and to drink more coffee!
Finally, we're always looking to expand our musical horizons. Do you have any recommendations of bands or artists we should be looking out for?
R: Mine are pretty standard usually, people like Luke Sital Singh or the Staves. You're much more likely to teach me something!
S: Jess Morgan, Thomas J Speight, Wes Finch, Atlum Schema, Dan Wilde, Chains, Chris Tye to name just a few.
Hospitality for Hope out now on Wild Sound Recordings
Find out more about Stylusboy here