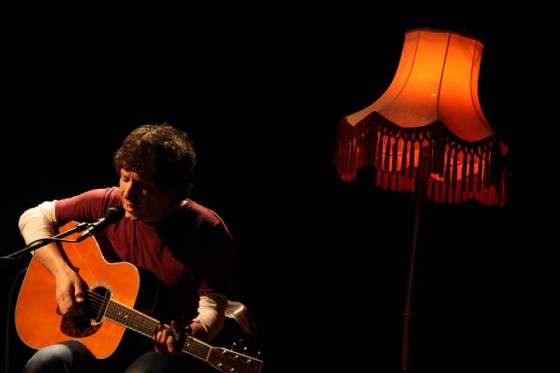 Ellen was the first one to say what we'd all been thinking: it felt like an indoor festival. As the last of a beautiful day's sunshine poured in through the open windows on the top floor of Leeds' Munro House we were treated to three outstanding acoustic acts – and just a little taste of all the joys of summer to come.
Without her Escapades, Ellen – creator of these Saturday Session shows – was up first to deliver stripped back versions of those songs which highlighted their outstanding debut of last year, All The Crooked Scenes, with a couple of new drafts and a cover of Ray Lamontagne's 'Narrow Escape' thrown in. Hearing the likes of 'This Ace I've Burned' and 'Yours to Keep' reduced to the simple sound of Ellen and her guitar only reinforces the strength of their songwriting, sometimes easy to overlook amid the rich warmth of the band's sound and Ellen's stunning voice.
Outstanding voices were perhaps a theme of the night, with another Leeds' greatest vocal talents – Paul Thomas Saunders – up next. From the lush velvet of Ellen's voice, there is a considerable change to Saunders' snarling growl, but certainly no less power. It was perhaps fitting that the sun finally set towards the end of his set. His vocal chords have the wings to carry you away, but his music is filled with demons and devils, and the sounds of the night.
But if these first two acts are well known and well loved on the Leeds circuit, it was the headline performance from Howie Payne which provided the unexpected flourish. It has been a long time now since The Stands – Liverpool's take on country music – briefly flickered, never quite breaking through despite strong support from the likes of Noel Gallagher. But listening back to those now near-decade old albums wasn't enough to prepare you for Payne's solo sound. Gone is the country-twang, his voiced smoothed out and grown up.
For a man who has supported Oasis and Paul Weller, and played festivals all around the world, he seemed unusually nervous about playing to this cosy gathering, occasionally glancing over his shoulder at the lampshade behind him as though he was being watched. But this music is clearly more personal to him than those old songs he recorded with his revolving class of bandmates, even if his set includes quite a number of Stands favourites, led by their most successful single 'When This River Rolls Over You'.
But it is the new material which is the most interesting. Payne has already put out one solo album in the last few years – produced by the esteemed Ethan Johns – and is working on another, this gig the first in a short tour which will help him road-test the songs. And they pass the test. 'Come Down Easy', taken from that 2009 release Bright Light Ballads, shows off his bluesy chops, while 'Do Right By Me' shows he hasn't lost his ear for a hook. But the real highlight is 'Forever In Blue', a tune with a slightly sinister edge which is the work of a seriously talented songwriter. If he began the night nervous, he seems genuinely touched when beckoned back on stage for a well-earned encore.