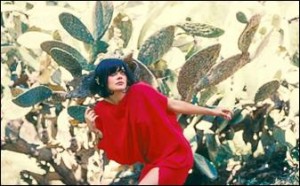 Fresh from her headline set at Field Day this weekend, Bat For Lashes has announced a one-off UK show at the Shepherd's Bush Empire in August.
Natasha Khan, who has Ivor Novello and Brit Award nominations to her name following the release of The Haunted Man last year, will take to the stage at the famous London venue on August 13 in the midst of a round of the European festival circuit, with tickets available from Friday.
Bat For Lashes will also appear at a special night in aid of two autism charities at the Apollo Theatre on July 1.
Khan will sing 'Laura' at A Curious Night At The Theatre, in aid of Ambitious About Autism and the National Autistic Society, which will also contain performances from comedians Simon Amstell and James Corden, as well as a film featuring Christopher Boone, the lead character from Mark Haddon's book The Curious Incident Of The Dog In The Night-time written by the author with award-winning playwright Simon Stephens.