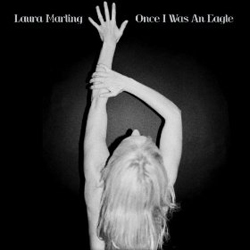 Laura Marling is back with her fourth album, which could so easily have been a couple of records. Its 16 tracks fitting neatly into two camps.
Following on seamlessly from A Creature I Don't Know, Once I Was An Eagle refers to its predecessor's subject in its opening line: "You should be gone, beast" over a darkly pulsating bed of guitar. You can hear the influence of the Dharohar project in the four opening tracks. They're an unrelenting stream of consciousness with the thudding bass notes of one leading straight into the next.
Marling was candid in her earliest material ("The pre-Alas I Cannot Swim stuff just makes me full of an incredibly deep self-loathing now," she told us in 2010), and then pulled back so far that her lyrics became totally opaque. With every record since, Marling has gradually opened up, with the result that each one feels like a puzzle to be solved by only the most attentive fan.
In these opening tracks she lays her foibles bare – "I want you to want me, wouldn't want you to know" – against a driving rhythm section. Marling doesn't pull any punches with the men who have fallen in her wake: "I will not be a victim of romance" she sings before laying into a "freewheeling troubadour"  who did nothing but "take her mind off the sea". But the most cutting observation is reserved for the subject of 'Master Hunter', who's told: "You're not sad, you live for the blues".
After a cello interlude, the mood lightens. 'When Were You Happy' ("Hey there new friend across the sea/If you figure things out would you figure in me?") is surely a precursor to Laura's relocation from London to Los Angeles.
During the second half Marling allows herself space with quietly picked guitar and sparse orchestration. Complementing this is a touch of out-of-character optimism in 'Love Be Brave' – "Here comes a change over me… I am brave and love is sweet". Elsewhere 'Once' is a beautiful anti-love song with the most simple and perfect chorus Laura has ever written.
Marling trademarks emerge on this record: each beat punctuated with a change of chord, the obsessive search for truth and knowledge and the frustration of failing to find it.
It's a real album of an album – relying on the form to constrain its themes and give it structure. Thanks to this Once I Was An Eagle feels like a record that plunges to depths but works things out.
It's tempting to neatly translate the dark and the light. To surmise that London life was weighing Laura down, and her mood's been lifted by a relocation to sunnier climes. But that's probably nonsense. Marling is a creative and a poet and I can't pretend to know what's going on in her head, but we should be extremely grateful that she commits her version of it to record.