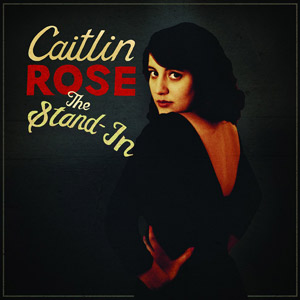 Bookended by a pair of songs about phoning people who just don't want to talk, Caitlin Rose's The Stand-In is a wide-ranging adventure in heartbreak, disagreement, and loving in the wrong direction on a regular basis.
Caitlin Rose proved her country credentials with Own Side Now in 2010, when she was fussed over by myriad national newspapers and awarded the Album of the Year accolade by the Nashville Scene Newspaper. Since then, her voice and ideas have both gotten determinedly bigger.
Pressing through life with a broken compass, album-opener 'No One to Call' is upbeat in rhythm, if not in tone. It sets the stage for a more varied, adventurous and competently wide-ranging record than Own Side Now, whilst maintaining a steady thread of love, whether gone-wrong or – on occasion – gone-right.
The theme of telecommunication comes full circle with 'Old Numbers', closing the record with the opposite issue: suddenly there's an abundance of people to call, but they, and their numbers, belong firmly in the past.
There's something almost antiquated about this obsession with phone calls in a world where online dialogue dominates, and the numbers of now-defunct love interests can be deleted in the swipe of an index finger.
There's even the possibility, I suppose, that Rose is storing these painful numbers in her frontal lobe, rather than on her mobile's tiny little hard drive. The digits of boyfriends and girlfriends long-gone and best-forgotten do have the nasty habit of sticking around uninvited, like a numerical fragment of the person you've lost. "No I don't have you", sings Rose, "but I'll always have your number."
A Vegas wedding is imagined in all its frou-frou conveyer belt glory on 'Pink Champagne'. A couple take the lightest of steps down the aisle, swiftly make way for the next bride and groom in line, and make plans to return the rented wedding dress and catch a show before bedtime. The brash and tacky world of spontaneous marriage is portrayed in a rosy haze of grounded optimism – practical loving, if you will – advising the listener to "play your love while the table's hot" and take a chance without any certainty of longevity.
Gorgeous, deeply optimistic 'Everywhere I Go' rides on the regular waves of a steady drumbeat, with a quiet simplicity that contrasts with the complexity of the multiple break-up songs alongside which it sits. A celebration of connection, of love-going-well and individuals linked across miles and hours by love, it's quiet and unassuming in comparison with its fellows, but this union feels more worthy of our faith than that of the nonchalant Las Vegas newly-weds. The uncomplicated sentiment reaches deeper, perhaps because it stems from a connection that feels authentically hopeful.
Love goes on in a number of alternative settings, including a playground of sorts on 'I Was Cruel', where dirt and stones are thrown in love atop an intricately plucked melody. It ends within the suffocating walls of glassy perfectionism in 'Menagerie', in which tidiness and the outward show of love have killed passion dead. On the anthemic 'Waitin',' a lover is imagined pessimistically anticipating heartbreak, even in the first lustful sighs of a new relationship.
So much emotional variation is packed into this album that it's hard to take it off repeat and take yourself off to bed. It's made to be listened to on a loop, whether you're weeping into a tub of ice cream of indulging in a bit of delicate frottage with your attractive young thing of choice.
Tracklist
1. No One To Call
2. I Was Cruel
3. Waitin'
4. Only A Clown
5. Pink Champagne
6. Dallas
7. Golden Boy
8. Everywhere I Go
9. Silver Sings
10. When I'm Gone
11. Menagerie
12. Old Numbers