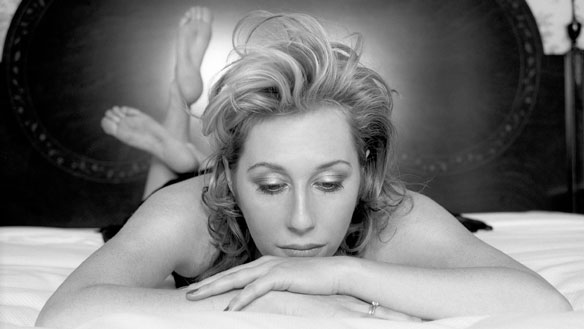 Stomping onto the stage at Shepherd's Bush Empire with a jumper wrapped turban-wise around her head and a Norwegian fox dangling from her throat, Martha Wainwright bursts straight into a rendition of 'Factory'. Choosing to begin the evening with a song from her first, self-titled album, Wainwright proceeded to be all things to all men, performing tracks from new album Come Home to Mama, dipping into the breadth of her back catalogue, as well as the odd McGarrigle tribute and two songs from her 2009 album of Edith Piaf songs.
Grinning, wailing and laughing her way through the set by turns, she took frequent breaks to stick her hands deep into the pockets of her skirt and let rip her charismatic stage banter, charming an audience which was largely made up of pre-charmed, and thoroughly devoted, fans. She was also wearing some pretty amazing socks.
Mixing in references to Romeo Stodart (Magic Numbers) whose guitar she'd borrowed as hers was cracked in transit and Pete Townsend, who played with her and her band the first time she appeared at the Empire, we're forcefully reminded of Martha's aristocratic status in the pop world.
Somehow managing to remain under the mainstream radar, in spite of her connections, her unquestionable talent, and her flair for an incredible tune, she still hasn't reached the level of success imagined in 'Radio Star' which, incidentally, is utterly massive and glittering live.
'Four Black Sheep' comes with a free description of why and how she came to write about car crashes: asked to come up with a song representing the province of Quebec, Wainwright was given the remarkably specific topic of the Black Sheep Lodge (20 miles outside Ottawa), and so did what any sensible woman would: re-imagined herself and her three troubled friends in a car crash on their way there (rather than arriving and leaving without hitch, which is what actually happened to them).
Under a different type of radar entirely, her husband Brad Apatow played every song up to the encore cowled like a monk and wearing what looked like an olde worlde hockey mask. The outfit had no significance, other than denoting his utter determination to out-Scandinavian his wife (whose entire outfit was from Norway). No, we didn't know that the Scandinavians were so into monking out either.
Entering the Piaf section of the set (which, we are told, is largely about prostitutes), Wainwright is suddenly without piano and enormously gesticulative, throwing her arms about, drawing her hair up into peculiar shapes with her hands, and flinging her arms about with the utterly convincing passion of a fully-fledged chanteuse.
Bidding us a cheeky farewell following 'This Life', the final song of her encore, Martha, her socks and her fox disappear from the stage, leaving behind them an Empire full of flushed, delighted faces. If we did this every Monday night, we suspect we'd be significantly more energetic human beings.
Setlist
Factory
I am a Diamond (by Kate McGarrigle)
Far Away
I am Sorry
Changes in the Night
Four Black Sheep
Make up sex
Turn on the Radio
Leave Behind
Jesus & Mary
Bleeding All Over You
L'accordeoniste
'something shit' Originally American Piaf French trans
Ball and Chain
All Your Clothes
Everything Wrong
I Wanna Make an Arrest
Proserpina 
Stormy Weather (Cover)
In my head