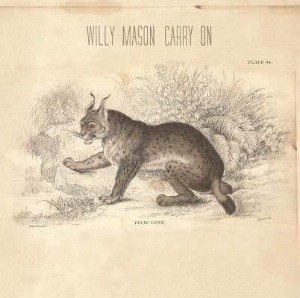 For serious Willy Mason devotees, a number of the tracks on Carry On will be thoroughly familiar; he's been gigging them all around the place for upwards of a year.
Recording the album in the depths of south London with producer Dan Carey (he's also produced Kylie. That's right, Kylie among others), Mason stayed at a local hostel and performed twice at Streatham's live music pub, The White Lion, automatically becoming the coolest person ever to play a gig in this particular district of zone three.
A little smoother around the edges, and perhaps slightly less enraged by modernity, Mason continues to soundtrack a mislaid generation: we're still sleeping in the back of pick-up trucks, but there's hope in the air. This album completes a triptych of works, he says, bookending the last eight years of recording and leaving new directions wonderfully uncertain:
"I think of this record as the third and final chapter to a particular narrative that started with Where the Humans Eat," says Willy. "It's a narrative that's loosely based on me, on my character through performance, and I think that by completing this album, I'm sort of closing the door on that and opening up a whole new world of possibilities."
Opening track 'What is This?' makes us think of Alela Diane: big, swaying country guitars and a wider sense of space than we're used to with Mason. This isn't a country album, though (and nor is it simply a folk one): echoes of both genres, as well as splashes of reggae and the occasional snarl of an electric guitar, make this a wider and perhaps more accessible record than its predecessors. The emotions aren't quite so raw, but the softness of these new corners (and the more frequent pockets of positive thinking) make Carry On a more interesting ride.
'Talk Me Down' and 'Restless Fugitive' signal a phase of songs more reminiscent of the earlier recordings, with loping rhythms telling folksy, bluesy tales of lost souls wandering in search of answers.
'Into Tomorrow' is, for want of a better word, a lullaby. Speeding us up an imaginary highway, watching "the landscape unfold into tomorrow" with an optimistic, dare we say uplifting melody. Taking heart in the darkness, sheltering in the self.
Riffing on simple strength and beauty, Carry On sees Willy Mason practicing what he preaches.
Carry On is out now.