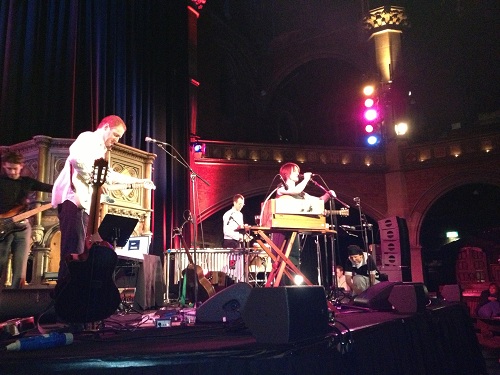 THE breathtaking Union Chapel is the perfect setting for this rare gathering of Karine Polwart's full band. Adding piano and percussion to her regular backing of brother Steven (guitar, good looks, bad jokes) and Inge Thompson (accordion, backing vocals, headscarves), Polwart captivates a packed crowd sheltering from a drizzly October evening.
"We've made an effort for you,London", Polwart smiles, looking around in awe at the majestic church. "The boys were backstage ironing their shirts." If this group of Scottish folkies feel the spotlight shining on them more than ever these days, it's little wonder. After more than a decade of relative obscurity, Polwart grabbed the attention of the music world this summer as her new album, Traces, garnered praise from publications as diverse as The Sun, the Daily Mail and the Financial Times.
Speaking to FFS back in August, Polwart stressed the importance of communicating 'a sense of place', of telling stories and acknowledging your surroundings. She conjures little worlds within her songs, and it seemed somehow fated that they should end up in such an atmospheric arena. At this year's Cambridge Folk Festival, her Sunday afternoon set became a battle against the elements as an almighty hailstorm swirled around the tent. The opening line of 'We're All Leaving' – "there is thunder on the skyline" – was strangely apposite, and here too it seems as if this 200-year-old church has been moulded to fit Polwart's words.
She sings of "whispers in the dome", "spires of stone and steel" and "belfry towers for bells to ring in" – striking images in specific stories, but more relevant than ever despite being delivered hundreds of miles south of where they were conceived. Every word is more poetic and considered than the last, the perfect balance of genuine social angst, deep personal emotion and an appreciation of history and her part in it.
It's not all hand-wringing and political metaphors, though – there are some lighter moments: A cover of The Beatles' 'Love Me Do' on ukulele and piano accordion in 5/8 time; a rousing rendition of Billy Bragg's 'New England', and a charming performance of 'Five More Sleeps', an ode to Polwart's regular Skype calls with her young family.
Iain Sandilands on percussion and Graeme Smillie on keyboards give the songs the depth and power they need to fill the chapel, but there is no doubt Polwart is the star of the show. Concentration is etched on her face throughout the evening – at the end of every song she gives a little nod, as if to say 'job done'- and you are left with a feeling that not a single note, word or gesture is done by accident. This is an intense, focused performer who has perfected her craft to quite stunning effect.
words and photo: Sam Blackledge