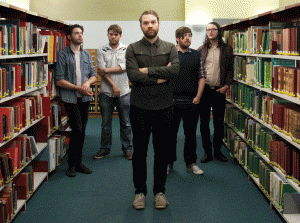 Frightened Rabbit manage, somehow, to strike a fine balance between combative resistance and crowd-pleasing jollity in their live shows.  Preferring those at the front of the room to those at the back (who're probably in the music industry, and therefore not that nice), preferring some of their own songs to others (responding to shouted requests for 'Snake', Scott Hutchinson replied "'Snake'? Are you joking though?") and reassuring the audience that they'll return to the stage to play their 'crap' songs once the real show was over, 'Frabbit', as they're affectionately known by more than one obsessed fangirl or boy, can be damn good in the flesh, if you catch them in the right mood.
Tickets to this show at 93 Feet East, with a village hall-sized capacity of 240, sold out in the blink of a tearful eye. On this Tuesday night, a group of devoted Frabbiters prove themselves to be intensely passionate as well as pleasingly well-behaved (London fans are better than Perth fans, apparently).  Plastic cups are carefully clutched between teeth for inter-song applause, declarations of love are made loudly and in complete sincerity to (and by) the band, and the bar is the site of some of the best-mannered deference FFS has ever seen in East London. The loos were like something out of the trenches, but that's by-the-by.
Jumping straight into 'Modern Leper', the band embarks upon a set that never ceases to please the crowd. This soundtrack for shambolic, contemporary love stories is a bloody brilliant one for belting out at the top of your voice, which is just what we (and the other 238 folk in the room) did.
A couple of songs in, Scott's pleased with London. "You can still have a dance on a Tuesday", he says. You can still have five pints if you like, too, but that doesn't stop it from being a Tuesday, more's the pity.
Frightened Rabbit are playing in support of their new 'State Hospital' EP, which is a fine piece of whisky-fuelled songwriting (more of that later) and well-deserving of your kind attention. 'Boxing Night' (also on the EP), written some years ago during an especially lonely Christmas, is (Scott tells the room) a depiction of a newly single man sat drinking his pain away in his pants whilst listening to Billy Joel and wondering where it all went wrong.
On to happier news: we're promised a new Frightened Rabbit album next year.  Scott aims to have whisky on his breath for every take of the new album, so its Scottishness (irrespective of the quality of the whisky involved) is assured. We'll patiently await its arrival wearing significantly more than our pants.
For now, you can pay attention to the EP in full, if you like.