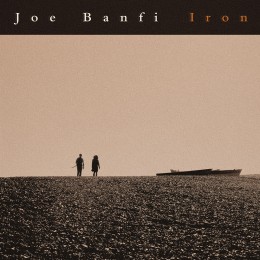 Stop me if you've heard this one before: Communion are releasing a new EP by a singer-songwriter whose distinctive voice is, all by itself, enough to lift him above the crowd. And so Joe Banfi follows in the footsteps of Michael Kiwanuka, Ben Howard et al before him with his first EP, Iron.
His growling voice is the first thing you notice about this Northwich chap, but not the last. The four songs here show he is far from a one-trick pony. The powerful 'Guts And Bones' takes the lead, showing off not just the full range of his roar but also his atmospheric guitar playing.
'See You At Home' and 'Iron' are slower, more contemplative pieces, showing Banfi's vocal chords aren't totally ripped apart yet, while still retaining a somewhat menacing edge perhaps born of his rock 'n' roll and grunge influences.
Those same influences were no doubt behind the decision to tackle Leadbelly's 'Where Did You Sleep Last Night?', a song brought to the MTV generation by Nirvana's unforgettable unplugged version.
Banfi brings his own take to it. This is not Leadbelly's grizzled demand, nor is it Kurt Cobain's desperate cry, but rather a sad, accusing lament, a song of loss. And if any song on this EP shows Banfi's potential it is his fine reworking of such a well-worn classic.
Banfi ticks all the usual boxes for a Communion release – simple yet unique, in short, hugely talented.