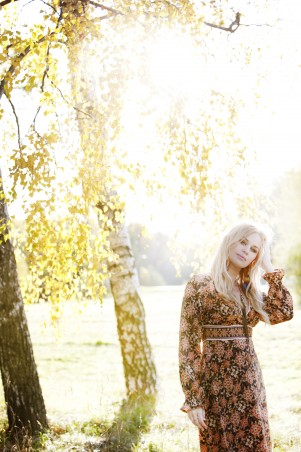 It's always impressive when artists are able to survive in the music industry without the aid of major label backing or pandering to the mainstream. On the flip side, this might also explain why Sofia Talvik, Swedish alt-folkstress and founder of own record label, Makaki Music, has released five critically-acclaimed albums without anyone in the UK having much heard of her. This oversight must be resolved immediately as Talvik, proving that Sweden is currently a gigantic alt-folk farm, plays gorgeously surreal, guitar-led dream-folk that simply must be heard. She's a psyched-out, more inventive Marissa Nadler with the ethereal tones of Tasseomancy and Serafina Steer – an artist unafraid to experiment but who nevertheless retains a country soul.
For someone who has started her own label, built her own fan-based through free-releases and been the first Swedish female artist to play Lollapalooza, the scale of Talvik's current project remains staggering: In December 2011 she embarked on a 2 year tour of the US in what sounds like a pretty unreliable RV, completing her 100th gig in May. She took some time out whilst waiting for some ball joints at a roadside repair station to answer some questions for FFS
The title of your latest album is called The Owls Are Not What They Seem.  Are you a big Twin Peaks fan?
I think Twin Peaks is one of the best TV series' ever made. I love everything about it and when I was a teenager, the first poster of a guy I put on my wall was one of Special Agent Dale Cooper. The album, though, is not written as a tribute to Twin Peaks, but when I had recorded it, it felt like a fitting name to the songs about love and loss and weird forests and what-not that's on the album.
Can you describe your music to the uninitiated?
Someone called my music neo-folk and I think that's kind of right, even though the term made me smile when I first heard it. The central part of my music is my voice and the acoustic guitar on which I write most of my songs. The songs are then sprinkled with instruments such as cello, flute and trombone. I try to give my music an organic feel and on my new album all the songs were recorded as one-takes, vocals and guitar, before the rest of the production was added. That way they keep the rhythm I have when I play live instead of that of a click track or a drum.
You're currently on a mammoth tour of the US – can you tell us about that and how it's going? Are you homesick?
There's really no time to get homesick on this two year grass roots tour I'm on. I've played in 31 states in 9 months so far and am already planning for the next year. Every day is an adventure – I get to see so many places and meet so many wonderful people. Sometimes it's hard, like when the RV breaks down (I'm writing this sitting in a repair shop waiting to get a new tire and ball joints) but it's all part of the adventure and I'll keep the tour going as long as the RV keeps together.
What are the best and worst things about touring?
The best thing is to meet all the people. A lot of my gigs are in smaller cities and we try to book smaller, intimate venues which makes it a lot easier to connect with my audience. It's also exciting to see all the different states in the US. Just now we had a few days off (a treat that doesn't happen too often) in Idaho and we drove up to the Sawtooth Mountains, went soaking in the natural hot springs and did some fishing and it was wonderful. Coming from Europe I feel like it's so easy to get stuck with the big attractions in the US, like NYC and LA, but there's so much more to it.
The worst thing is probably when you do a show and it's the wrong kind of venue for you, like me playing in a sports bar, or when there's just a few people in the audience. It sucks the energy out of me, and it's so hard to predict as I'm new to most places I visit and don't always have a local draw or know all the venues by experience.
What or who inspires you?
I think life is the biggest inspiration. It's hard to pinpoint one or two things. I usually say that inspiration is like walking into a cloud of another dimension or something. I know it sounds flaky but there's no better way to describe it. I can never tell when or where inspiration will strike, but I'm happy when it does.
Why did you decide to create your own record label?
I released my first album on a small indie label, but I've always been overly-ambitious with everything I do, so I wanted to do so much more than they did. After watching and learning I thought: Hey, running a label doesn't seem too hard, I can do this! So me and my husband started our label, Makaki Music, in 2006 and have released 4 full length albums and a bunch of EPs and singles after that. Having one's own label means I'm in total control of my brand, what I want to do and when. I don't have to ask anyone's permission and I think that's priceless!
You're already on your fifth album – have you accomplished what you set out to achieve?
I don't think you ever get there. If you do there's really no point in carrying on, is there? I always set new goals for myself and the goals change and grow (sometimes out of proportion). I think I'll keep making music as long as I like it and am happy with it and I'll always strive to evolve as an artist, songwriter and performer. Just this year I've learned so much from touring and I think there's always new stuff to learn. There's small victories and perks along the way too, like being invited to do a session on Daytrotter, which I think is one of the best music platforms/blogs today.
If you had to choose one song which defines you as an artist, which would it be?
'King Of The Willow Tree'. It's from my 4th album but I still love it. It's got a great groove with the guitar picking and I love the production on the album too. I told my drummer he wasn't allowed to use the hi-hat on the album, just the toms to make the sound ethnic and boomy, and even though he tried to fight it at first I think it turned out super. The twangy guitars are great too. I'm really lucky to have such a great backing band.
What are the difficulties faced by Swedish artists trying to make it in the UK industry?
I really haven't tried that much to break into the UK market since I've been focusing on the US, but I think it can be hard because the UK has so much great music for such a relatively small country. I guess it's the same as breaking anywhere though, you have to find the right channels to work through. If anyone in the UK reads this and want to help me out give me a holler, haha!
We love a lot of Scandinavian music here at FFS – which Swedish artists should we be looking out for?
You should check out Magnus Tingsek , he's not a very folky guy, more of a funky, soul-ey sound but he's great. I think Leslie  has a great voice too, he makes me think of Jeff Buckley… Besides that I don't really have a great insight on Swedish music right now as I'm not there!
Listen to The Owls Are Not What They Seem