It's a quiet Monday night in Soho and we somehow find ourselves at what must surely be the most exclusive gig in town. We arrive in time for folk stalwart, Polly Paulusma, the small British girl with a southern American soul. She begins with 'Last Week Me', a catchy ear-worm of a tune that burrows into the brain and will have you humming, "I'll be happy as a little mayfly" for days on end. Vocally, she's more reminiscent of Dolly Parton and the Grand Ole Opry tradition than anything springing from these shores, and is tonight accompanied by John on double bass. This is a smart pairing –  on 'Two Houses', the bass provides a sparse, mournful backdrop to Paulusma's beautifully pitched, slightly breathy vocals and simple guitar lines as she sings of longing and separation. After apologising for being slightly crumpled – she's done forty gigs this year and her children don't know who she is anymore – she launches into new single 'Don't Ask Me' from the recently released Leaves From The Family Tree, a contemplative and carefully-paced number. She finishes with 'Mea Culpa' – sad, young and pretty, it's a fragile gem to hold carefully in your hands. Paulusma's children's loss is clearly our gain.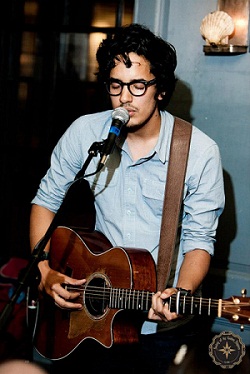 Next up is Luke Sital-Singh who, like James Vincent McMorrow, does loud and quiet to great effect. He's something of a story teller, such as on 'You Love, You Love', a universal tale about the fallibility of one's parents – "I have built my house upon your stones/Any rock can turn to sand you know." 'Honest Man' is a gentle and paper-thin love song, while 'Build Up Time' is stripped down, boy-and-his-guitar folk at its most heartfelt and honest. Beautiful stuff.
Something of a contrast is Ed Harcourt, who looks like a bear that can sing and play the piano really well. Playing just a handful of numbers from forthcoming album, 'Back Into The Woods', he leaves the comfort of the keyboard for  gorgeous new song, 'The Murmur in My Heart', which could win this month's award for most agonising lyrics – "In the pale morning you will lose her…She's the killer in the dark."
And then – the moment we've all been waiting for, as Harcourt introduces none other than the King's daughter, Lisa Marie Presley. What makes this possibly the most surreal gigging moment of our lives is the fact that there's a mere forty of us squished into a tiny room at the top of a private members club. Presley, a tiny figure in a white pinched jacket, is sitting hunched on a sofa next to the piano, mere feet away from FFS. We could almost reach out a touch her, but that would have resulted in being bundled out of the room by her security (we were still tempted).
Strangely, her music suits this environment perfectly –  one can imagine she translates better to smaller, intimate venues than large stadium gigs. Her voice is deep and rich, with a slight rasp and a lovely country twang, and her material feels intensely personal and introspective. Accompanied by Harcourt and a guitarist wearing the most extraordinary hat we've ever seen, she sings the three songs co-written with Harcourt from new album, Storm and Grace. 'Soften the Blows' is a reflective, vulnerable number that packs a great deal of emotion, while 'Storm of Nails' has a more jaunty feel with some nice, honky piano over the top. Stand-out track from the album, 'Over Me', is a pure, country and wild-western foot-tapper with the most delightful guitar riff. Sadly for us, Ms Presley is jetlagged and tired – our pleas for an encore are politely declined and it's all over too soon. Seconds later she has gone, flanked by her entourage, and it feels as though it might never have happened.