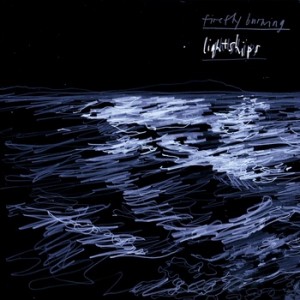 Firefly Burning remind me of Dirty Projectors in their musicianship and clear intention to do genre-bending things; sparks of piano, strings, metallic gamelan percussion and choral voices make this album implacably weird. Their experiments don't always come off; songs self-sabotage with off-key moments, or jerky transitions of rhythm and pace. Take 'Little Boat', with its haunting lyrics ruined by an over-egged vocal; if they didn't strain this song's emotion into sentimentality, it would work like a dream.
Lightships hits its stride, however, with 'The Slaughter of the Innocents', which reminds me of Ana Silvera in its piano-led drama, Bea Hankey's voice well-pitched here, beginning with claustrophobic, uncomfortable darkness and strings like creaking hinges, then launching into a lighter chorus; the song's shifts between this uplift and uneasy queasiness is compelling. 'We Are Leaves' reminds me of a child's puppet theatre – listening to it feels self-consciously naive. 'Lady Laurie' has jaunty appeal, and the title song 'Lightships' is nicely understated and teasing.
Firefly Burning's inventive avant-folk edge isn't a problem (I'm pretty enamoured of spiky and unsettling songs), but their vocals do need tuning in places. Opening track 'I Feel' becomes almost unlistenably off-key, with the sense that they do not, yet, inhabit their songs easily; but their ambition is striking, and this kind of trick takes some practice.
Words: Becky Varley-Winter