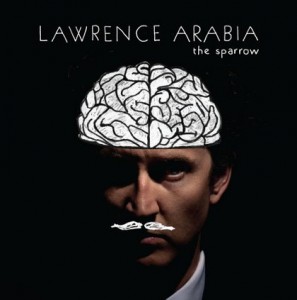 Lawrence Arabia, the moniker chosen by Kiwi James Milne, returns with a fantastic new album entitled The Sparrow. Previous album Look Like A Fool hinted at a Beck esque approach in his low-fi production effects but underlying this was a songwriter wanting to come out. This is fully realized on his first release for the prestigious Bella Union label.
Opener 'Travelling Shoes', which can be streamed from his website, has a charm to it which reminds me of Jens Lekman or Magnetic Fields song with it's humorous lyrics describing an individual 'wearing PJ's at the hippy café, everyone stares at him that way' in a 'town of perfect isolation'. This macro detailing of the life in a suburban town is set to a 1960's girl group backbeat with kitchen sink violin strings adding to the melodrama. The other obvious touchstone for this album are Scott Walker's late 1960s records whose influence looms heavily on songs such as 'Lick Your Wounds' whose descending bass line and angular orchestrations has a strong echo of 'The Old Man's Back Again'.
The album also has shades of The Beatles, especially Revolver-era Fab Four, on tracks like 'Early Kneecappings' which uses a droning piano set to a snaking George Martin-esque string arrangement which is wonderfully enjoyable to hear. One of my favourite tracks on the album is 'The Bisexual' which has an essence of a modern John Ford western with it's foreboding brooding tone of romance which opens up musically and lyrically as the story is told. This is aided by a Mariachi band accompaniment that could be there in the situation with the listener as the 'handsome well fed clown' walks into the bar or cafe.
This is an album I would recommend to all. It has the depth to be enjoyed over a number of listens and with all good albums; something new shines out with each listen. It shows that along with The Phoenix Foundation there is a new New Zealand music scene which is thriving.
Words: Louis Gilbert