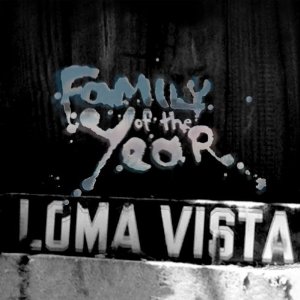 I'm not a great believer in music being seasonal: after all, a good tune is still a good tune all year round. But there's no denying that Loma Vista is a summer record. And when the sun's shining, this is a happy beach-infused album, all Californian and shiny bright. Family of the Year do indeed all live together in LA, even if the lead singer Joe Keefe and his drummer brother were rather improbably partly brought up in Wales. There's plenty of Beach Boys in here, and often they sound like a folkier version of their local contemporaries Grouplove. The mood is one of clear skies, good times with friends, and salt in the air. It's an uncomplicated sort of surf-folk. They have supported Edward Sharpe and the Magnetic Zeros and it sounds like it.
The album first song and single, 'The Stairs', is foot-tappingly good. It's about staying up late after a party to see the sun rise, all sung in anthemic unison like a seaside Polyphonic Spree. It's so catchy that the Family introduce the f-word into the chorus to prevent it from being described as radio-friendly. The beach theme crops up often on the album: 'St Croix', from an EP of a year ago, is another delicious tune, gentler this time, if rather let down by the rhyming of "you bring the ocean, I'll bring the motion". The listener is left wondering how long it will take before they introduce the sun lotion, except that they are of course bronzed Californians who doubtless don't need that sort of thing. Buried returns to the multi-voiced singalong, this time about needing to be buried with one's guitar, favourite T-shirt etc. All good fun when the sun's out and the waves roll in.
I have to admit that when the sky clouds over and the rain begins to fall, the album's gloss begins to fade. There's not much to hang an umbrella on in the second half of the album, and although they try to change the pace with the occasional more contemplative song, the tunes aren't strong enough to sustain one's interest and they drift by unnoticed – at least until the pretty harmonies of the final track, 'Find It'.
So, if the summer does ever come back, get outside, fire up the barbecue, put shades and this record on and make musical hay while the sun shines. And when autumn comes, put it away and you probably won't remember to take it out again until next year comes around.
Words: James Garvin