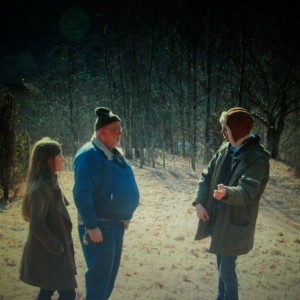 Swing Lo Magellan, the sixth studio album by Brooklyn-based Dirty Projectors, provides the latest look into the weird and wonderful musical mind of band leader Dave Longstreth, continuing his exploration for more obscure and eccentric sounds, counterbalanced with a sense of familiarity and intimacy. And its success lies in its penchant for discovery whilst retaining the usual charm and warmth of a Dirty Projectors' album.
Written and recorded over the course of twelve months, the twelve songs of Swing Lo Magellan were whittled down from forty demos; a fact evident from listening, as tracks brim with ideas, unexpectedly shooting into myriad musical directions. 'Offspring Are Blank' opens the album with handclaps and humming, before a storming electric guitar bursts the gentle nature of the track, whilst single 'Gun Has No Trigger' feels sparse with a skittish drumbeat and Longstreth's soulful voice, yet tension builds amidst the mellifluous backing vocals. The mastery of Dirty Projectors in working many seemingly opposing sounds into one song can be seen in the excellent 'Dance For You', as a gentle guitar, handclaps and rolling drums give way to an orchestral sweep, before returning with more force. 'About To Die' bounces along in many directions, before ending with Longstreth crooning the title as if in fear.
Still with this discovery a sense of intimacy remains, showing that amidst rich musical changes a constant openness and heart is shown. The title track feels like an old folk classic, based in simple songwriting rather than a need for large and varied musical elements. The soft piano and sweet vocals of 'Impregnable Question' also display a warmth, only furthered by the pleasant lyrics 'You're my love/And I want you in my life'; a universal hope for love that is easy to relate to and empathise with.
Dirty Projectors are a band who work well with discovery, pushing the boundaries of sound and attempting to make music like no others. At times it can sound dissonant and over the top, yet works well with an underbelly of warmth and charm. The joyous 'Unto Caesar' shows the spontaneity of the band, as they talk over parts of the track and ask when it's their time to come in. Swing Lo Magellan is by no means a perfect album, but one in which its imperfections charm the listener as it searches for new musical ground.
Words: Adam Lowe