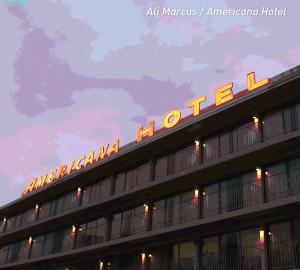 With her eighth album Americana Hotel, the first since 2009's Great Migration, Ali Marcus is putting the emphasis on storytelling. From the opener, 'The Ballad of Helen and Bernie', which tells the tale of Marcus' grandparents eloping amidst the struggles of the great depression to 'Of Homes and Loved Ones' – an ode to her musical heroes which features the ghosts of John Denver and Gram Parsons – and 'Talkin' Nashville Tornado Blues' – an anti-love song to the Music City, Americana Hotel is a lyrically engaging album.
But the opener is not just a heartwarming tale to show off Marcus' storytelling skills. It's also one of the best tunes on the album, the fast-paced guitar beautifully complimented by Annie Ford's strings. With Adam Borkoski adding banjo and William Cook playing an upright bass, it makes for a very traditional sound, but one that Marcus injects with plenty of her own character, with the end result somewhere between her fellow pacific northwesterner Laura Veirs and the Be Good Tanyas.
These songs cover all of the vast American landscape, from her grandparents' unusual honeymoon in Atlantic City to the frustration of dealing with Nashville's Music Row to the great migration west on 'California', or the touching love story of an inmate at Alcatraz. Marcus does not shy away from the political either, although if there are any clunky moments on the album, they come during 'The Windmill Song' and the closer 'American Soil' – a reaction to the Tea Party movement which has made its presence felt in American politics over the past few years.