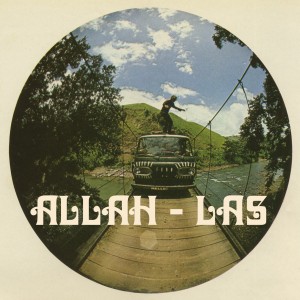 I'm pretty responsive to any band with the label 'psychedelic garage surf' so it didn't take long to get into the debut EP from Californians the Allah-Las. And ten listens later I am still captivated by this record.
While psychedelic rock may have seen a slight rebuff in popularity during the mid 70s its technique, influence and rejection to the conventional style of making music has left a significant mark. Most recently the genres' experimental and obscure melodic sound has seen a prominent return to the mainstream with bands such as Ty Seglal, King Tuff, The Black Lips and White Fence all pioneering the genre but with a slightly more grungier edge.
The Allah-Las are another one of those bands. They claim themselves to be four surfers from Los Angles, California, whose songs cultivate the idyllic beachbum lifestyle. The Tell Me EP certainly reflects the feeling of cruising down Venice Beach in a 1960s Cadillac ready to catch some sun and surf some waves.
Produced by Nick Waterhouse, the opening track 'Tell Me (What's On Your Mind)' manifest itself as 60s feel good psych-rock. A jangly homage to The Byrds, its chorus is infectious and its groove even more so. 'Sacred Sands' is a no fuss instrumental surf song and contains all the classic elements of the hot-rod genre, twangy guitars help us cruise through this track hazy sun soaked reverb.
'Catarman' and 'Long Journey' are the most psychedelic sounding tracks on this record, the former mediating between the experimental garage sound of 13th Floor Elevators and the whimsical folk of The Byrds. The open guitar chords of 'Long Journey' entwines you in, as leaders singer Miles Michauds' vocals and subtle coo's of "ahs" drones effortlessly over the fuzzy guitar back drop and deep bass line.
It's free from the lo-fi glitchy noise that can take some garage bands into the realm of obscurity; rather than the fast-paced and rebellious raw edge of a garage rock there is a smoothness to this record that engages just the aesthetics of the garage-rock scene. This is pure rock and roll with a summertime feel.
Words: Jacinta Fox