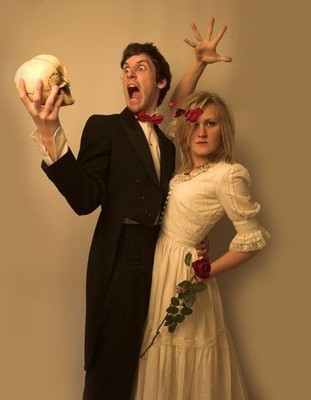 From out of England Richard Birtill and Francesca Cullen have taken flight as Changing Horses, recording their debut record in Nashville with Chris Donahue, a man who can list Emmylou Harris and Elvis Costello on his resume. It's been a rapid rise for a band whose distinctive folk-punk-pop is a sound all of their own.
Hello, please introduce yourself to yourself and your music to the uninitiated.
We are a duo called Changing Horses made up of and members Ric Birtill (Guitar and Vocals) and Francesca Cullen (vocals, Mandolin, Violin and malodion). Our sound is influenced by punk, pop, folk, indie and metal.
How did you start playing music?
Chezz- My family played the music at church. That's where I learned to improvise and make up harmonies. For Ric music was the most natural way to express the things he had to say.
Tell us about your latest EP.
Ric's was invited to record with Emmylou Harris's bass player Chris Donohue and Engineer Stephen Leiweke in Nashville. At the time we had just started the band and Ric invited me to come with him for support. We had no intention to record the songs we had been working on together, however, Chris and Stephen liked what we had been doing and we decided on six songs from our set for the EP. The EP is called The Nashville sessions and it was released on the 11th June 2012. It is available to buy from our website now. The single from the EP is called 'Cut all Strings' and it is available as a free download from our website.
What was your best ever gig?
We have had a few great gigs so it's hard to decide. We definitely enjoy the smaller, more intimate gigs. We played a house concert in York last year to about 30 people which was really good fun. Another memorable gigs was when we played a folk festival and an audience member ran out because she was scared.
What's the worst thing about being a musician?
People trying to rip you off.
What inspires you?
People and everyday, mundane situations/life.
If you won a billion pounds what would you do with it?
Record a flipping amazing album.
Out of your songs, which is your favourite and why?
We don't have a favourite. We like them all.
What are you plans for the future? Do you want to always to be playing music?
We are very excited about moving on to our next EP/Album. We've already got lots of material and concepts for names/artwork etc.
Finally, we're always looking to expand our musical horizons. Do you have any recommendations of bands or artists we should be looking out for?
These are not necessarily new artists but at the moment we are listening to Crass – 'Christ the Album' and White Noise.